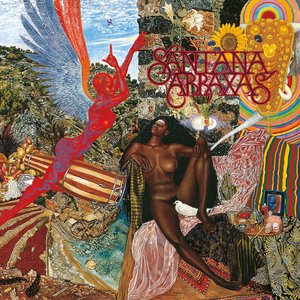 Abraxas is the second album by Santana, the Latin rock n' roll group led by guitarist Carlos Santana. Consolidating their live success at the Woodstock Festival in 1969, and the interest generated by their first album the band took some time to issue a follow-up. Released in September 1970, the album's mix of rock, blues, jazz, salsa and other influences made it a classic that defined Santana's early sound, and showed a musical maturation from their first album. Often considered Santana's greatest album, it drew widespread acclaim for its mixture of Latin influences with familiar rock themes such as overdriven
Read Full Bio
Abraxas is the second album by Santana, the Latin rock n' roll group led by guitarist Carlos Santana. Consolidating their live success at the Woodstock Festival in 1969, and the interest generated by their first album the band took some time to issue a follow-up. Released in September 1970, the album's mix of rock, blues, jazz, salsa and other influences made it a classic that defined Santana's early sound, and showed a musical maturation from their first album.

Often considered Santana's greatest album, it drew widespread acclaim for its mixture of Latin influences with familiar rock themes such as overdriven electric guitar, organ and heavy drums. The album also demonstrates Santana's stylistic versatility, including tracks such as "Samba pa Ti" (a classic slow-burning, seductive piece) and "Incident at Neshabur", both being instrumentals. The latter has several rhythm and time signature changes consistent with its jazz feel. Latin percussion — congas, bongos and timbales, as well as a conventional rock drum setup, make this Santana's first foray into true Latin rhythm. In 2003, the album was ranked number 205 on Rolling Stone magazine's list of the 500 greatest albums of all time.

The album achieved number 7 in the UK album charts
The title of the album comes from a line from Herman Hesse's book Demian:We stood before it and began to freeze inside from the exertion. We questioned the painting, berated it, made love to it, prayed to it: We called it mother, called it whore and slut, called it our beloved, called it Abraxas...
The album's cover features the 1961 painting Annunciation, by Mati Klarwein.
Genre not found
Artist not found
Album not found
Search results not found
Song not found
To comment on specific lyrics,
highlight them