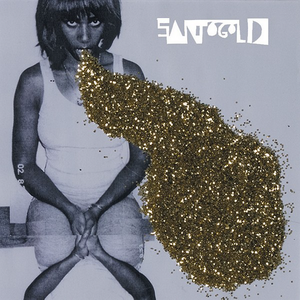 Santogold is the debut studio album by American artist Santigold (real name Santi White, who performed under the moniker Santogold at the time of the album's release). The album was released on April 29, 2008 in the United States and May 12 in the United Kingdom, on Downtown Records and Atlantic Records, respectively. Blending a variety of musical genres ranging from new wave to alternative rock and reggae, the album was very well received by critics upon release and was noted for its "cross-genre confidence". It earned multiple spots on 'top albums of the year' lists from major music periodicals
Read Full Bio
Santogold is the debut studio album by American artist Santigold (real name Santi White, who performed under the moniker Santogold at the time of the album's release). The album was released on April 29, 2008 in the United States and May 12 in the United Kingdom, on Downtown Records and Atlantic Records, respectively.

Blending a variety of musical genres ranging from new wave to alternative rock and reggae, the album was very well received by critics upon release and was noted for its "cross-genre confidence". It earned multiple spots on 'top albums of the year' lists from major music periodicals such as NME, Rolling Stone, and Spin,and was positively compared to the likes of several other artists, including Debbie Harry, Pixies, M.I.A., Goldfrapp, The Go-Go's, Joe Strummer, and The Slits. White, who was admittedly influenced by '80s new wave rock, based the music of "My Superman" from the song "Red Light" by Siouxsie and the Banshees.

The album spawned four singles, most notably "L.E.S. Artistes" and "Creator", and features appearances and/or production work from Bad Brains' Chuck Treece, Clifford Pusey of Steel Pulse, Diplo, Disco D, Freq Nasty, Spank Rock, Radioclit, Sinden, Switch, and Trouble Andrew.In addition to vocals, Santi White played guitar and keyboard on several songs on the album.The music video for the album's lead single, "L.E.S. Artistes", is an homage to the 1973 Alejandro Jodorowsky art film, The Holy Mountain.

Santogold's goal of the album was to "help break down boundaries and genre classifications" and show that she wasn't just "a black woman singing R&B." "The cool thing is that I was able to work with all these genres that are typically sub-cultural, like dub or punk or something, and then, by writing in a way that had hooks, made it accessible to everyone."When Santigold had signed to Atlantic Records, the album was "pretty much done and they already loved it. They asked me not to change anything on it." The writing and recording process took eight weeks.Santigold had tried to work with her friend Mark Ronson, whom she collaborated with for his album Version, but "it wasn't possible timing-wise."
Genre not found
Artist not found
Album not found
Search results not found
Song not found
L.E.S. Artistes
Santigold Lyrics
What I'm searching for
To tell it straight, I'm trying to build a wall
Walking by myself
Down avenues that reek of time to kill
If you see me keep going
Be a pass by waver
Build me up, bring me down
Just leave me out you name dropper
Stop trying to catch my eye
I see you good you forced faker
Just make it easy
You're my enemy you fast talker
I can say I hope it will be worth what I give up
If I could stand up mean for the things that I believe
I can say I hope it will be worth what I give up
If I could stand up mean for the things that I believe
What am I here for?
I left my home to disappear is all
I'm here for myself
Not to know you
I don't need no one else
Fit in so good the hope is that you cannot see me later
You don't know me
I am an introvert an excavator
I'm duckin' out for now
A face in dodgy elevators
Creep up and suddenly
I found myself
An innovator
I can say I hope it will be worth what I give up
If I could stand up mean for the things that I believe
I can say I hope it will be worth what I give up
If I could stand up mean for the things that I believe
Change-change, change, change
I want to get up out of my skin
Tell you what
If I can shake it
I'm 'a make this
Something worth dreaming of
I can say I hope it will be worth what I give up
If I could stand up mean for the things that I believe
I can say I hope it will be worth what I give up
If I could stand up mean for the things that I believe
I can say I hope it will be worth what I give up
If I could stand up mean for the things that I believe
Lyrics © Sony/ATV Music Publishing LLC, Downtown Music Publishing
Written by: Santi White, John Graham Hill

Lyrics Licensed & Provided by LyricFind
To comment on specific lyrics,
highlight them