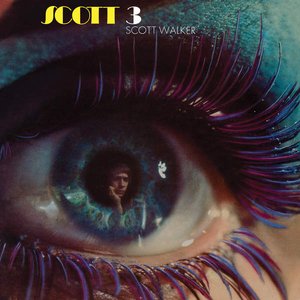 Scott 3 is the third solo album by singer songwriter Scott Walker. Upon release in 1969, it met with slower sales than his previous albums, as pop audiences struggled to keep pace with Walker's increasingly experimental approach. The dense lush string arrangements by Wally Stott seemed to evoke a Vegas-style lounge crooner atmosphere, but one tinted with surreal drones and touches of dissonance. Since its release, it has been regarded by many of Walker's fans as a favourite. The title of the compilation Fire Escape in the Sky: The Godlike Genius of Scott Walker is taken from the lyrics of
Read Full Bio
Scott 3 is the third solo album by singer songwriter Scott Walker.
Upon release in 1969, it met with slower sales than his previous albums, as pop audiences struggled to keep pace with Walker's increasingly experimental approach. The dense lush string arrangements by Wally Stott seemed to evoke a Vegas-style lounge crooner atmosphere, but one tinted with surreal drones and touches of dissonance.
Since its release, it has been regarded by many of Walker's fans as a favourite. The title of the compilation Fire Escape in the Sky: The Godlike Genius of Scott Walker is taken from the lyrics of the song "Big Louise", and the 2006 documentary Scott Walker: 30 Century Man is named after "30 Century Man".
A cover of "30 Century Man" by the Jigsaw Seen was used in the animated film Futurama: Bender's Big Score.
The final three tracks are covers of compositions by Jacques Brel.
Genre not found
Artist not found
Album not found
Search results not found
Song not found
It's Raining Today
Scott Walker Lyrics
It's raining today
And I'm just about to forget
The train window girl
That wonderful day we met
She smiles through the smoke
From my cigarette
It's raining today
But once there was summer and you
And dark little rooms
And sleep in late afternoons
Those moments descend
On my window pane
I've hung around too long
Listening to the old landlady's hard-luck stories
You out of me, me out of you
We go like lovers
To replace the empty space
Repeat our dreams to someone new
It's raining today
And I watch the cellophane streets
No hang-ups for me
'Cause hang-ups need company
The street corner girl's
A cold trembling leaf
It's raining today
It's raining today
Lyrics © CARLIN AMERICA INC
Written by: Scott Engel

Lyrics Licensed & Provided by LyricFind
To comment on specific lyrics,
highlight them