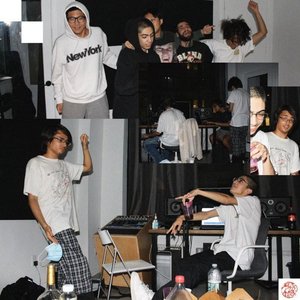 Sebastian Y. DeMarino, better known by his stage name SEBii, is a Shanghainese-American artist/producer born and raised in Shanghai, China, since the age of 17, only to move to the United States for college. He's commonly known for his track "Butterfly Bankai" which blew up off of the "デーモンAstari" YouTube Channel. He is also known for the Play Poker Remix with producer Maple. SEBii is a member of the Neilaworld collective.
Genre not found
Artist not found
Album not found
Search results not found
Song not found
We have lyrics for 'SLiiDE' by these artists:



Sebii & Ericdoa Yeah, yeah, yeah, yeah Yeah, yeah, yeah, yeah Alright, alrig…
Sebii Ericdoa Yeah, yeah, yeah, yeah Yeah, yeah, yeah, yeah Alright, alrig…
SEBii feat. Ericdoa Yeah, yeah, yeah, yeah Yeah, yeah, yeah, yeah Alright, alrig…



We have lyrics for these tracks by ericdoa:



2008 Tired of thinking that I need you I found a different…
broke my car radio Oh, whoa Oh, whoa, whoa, ah-ah I broke the radio inside of…
cheap liquor You're mine Why's love so hard to find? You wait up for…
deep end Glasear with the heat Ay, I feel like I'm going off…
do or die I like to stare inside the camera Think that someone's watch…
Falling From Heaven She's got me fucking crazy Oh, my God Fuckin', rig…
fantasize One, two, three, four You calling me crazy And that's one t…
fool4love Oh-oh-oh (whoa, whoa, whoa) Oh-oh-oh (baby, I'm a fool for l…
haven Yeah You can tell me 'bout your bad night Your girlfriends a…
heather Whoa, whoa, oh Whoa, whoa, whoa I don't like how you talk…
himynameisdante Hi, I′m Dante Kaktus They like, "Dante, what it do?" What'…
Ifeeldisoriented I can't get you up out my head My thoughts are…
ifhy Pacific Loose cigarette up on my lips, I feel my best I'm…
ivy Guide me I got lots of spirits right beside me I don't…
lifeline Yeah, yeah, uh You treat me like a, yeah I guess halfway…
Likewise Yea, me and pipes! Me and pipes! Me and pipes!…
loose ties Hanging upside down blood rush to my head Lookin' at the…
Mirage (Thislandis) (I love you, Mochila) Ayy, hop inside the Spyd…
mistake I am not who I was, had to make that…
movinglikeazombie Orora (Karasu) Odece You don′t have to call me back if you…
naturale Like Joelle, I know one day that we'll have to…
ocd Hey I know you think about me (I know you think…
phases Yeah, I been going through phases I know damn well you're…
plea I hurt you way too much But just know that I…
primadonna Whoa, whoa Whoa, whoa Shout-out to Umru, he did it again Who…
RightAway I need you right away, wash me like a tidal…
sad4whattt Bitch, you sad for what? Yeah, all the bullshit is adding…
self sabotage I know you wanna see me, suffocate It's been so hard…
sheaskedwhatmylifeislike I feel like everything just a waste of time You giving…
strangers (Stupid ass) No, we not strangers anymore (no, we not) No, …
thanks4thewarning I told you secrets that I thought that you could…
victim Oh, whoa Oh, whoa, oh, whoa, oh, whoa Oh, whoa, oh You don'…
Waist Deep in Cold Water Take note of situations I know just who you are Mind filled…
Whatuworried4? Yeah, yeah, uh, uh, yeah, yeah Rio Shoutout Rio, shoutout Ni…
witchcraft Hi, I′m Dante You better run fast, I need like eight…

The lyrics can frequently be found in the comments below or by filtering for lyric videos.