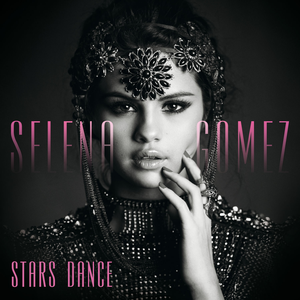 "Stars Dance" is the debut studio album by American singer Selena Gomez. It was released on July 19, 2013, by Hollywood Records. Gomez began planning the project in 2012, at which time she announced that her band Selena Gomez & the Scene would be taking an indefinite hiatus, and continued work into 2013. She has cited artists such as Britney Spears and Skrillex as influences on the record, which stylistically features EDM and electropop music. Elements of dubstep, techno, disco and worldbeat have been noted on the album. Gomez worked with producers such as Rock Mafia and The Cataracs on
Read Full Bio
"Stars Dance" is the debut studio album by American singer Selena Gomez. It was released on July 19, 2013, by Hollywood Records. Gomez began planning the project in 2012, at which time she announced that her band Selena Gomez & the Scene would be taking an indefinite hiatus, and continued work into 2013. She has cited artists such as Britney Spears and Skrillex as influences on the record, which stylistically features EDM and electropop music. Elements of dubstep, techno, disco and worldbeat have been noted on the album. Gomez worked with producers such as Rock Mafia and The Cataracs on the album.

Upon its release, "Stars Dance" received generally mixed reviews from music critics. While some complimented both Gomez's maturing image and the album's content both lyrically and vocally, the album was criticized for its electronic-heavy and somewhat "generic" production. It is her first album to debut at number one on the Billboard 200. The album sold 97,000 copies in its first week of release in the country, making it her highest selling debut at the time. It became her fourth top twenty entry in the United Kingdom, peaking at number fourteen. As of September 2014, the album has sold an estimated 392,000 copies in the United States, making it her lowest selling studio album to date in the country.

The album's lead single, "Come & Get It" featured heavy electronic and worldbeat themes, became Gomez's first top 10 entry in the United States, and entered the top ten in countries such as the United Kingdom, Ireland, and Canada, among others. It was also successful on pop radio, reaching number-two on the Mainstream Top 40 chart. The second single, "Slow Down", failed to match the success of its predecessor, though did peak inside the Top 30 in the United States. It was met with success on pop radio, reaching the top ten of the Mainstream Top 40 chart. Gomez promoted the album through a number of high-profile performances, such as the 2013 Billboard Music Awards. Gomez embarked on the Stars Dance Tour (2013) to further promote the release.
Genre not found
Artist not found
Album not found
Search results not found
Song not found
Tell 'em that it's my birthday
Tell 'em that it's my birthday
Tell 'em that it's my birthday
When I party like that
Every night's my birthday
They don't know, so it's okay
Tell 'em that it's my birthday
When I party like that
(Uh, uh-uh-uh) Jazz it up
(Uh, uh-uh-uh) Jazz it up
Happy as can be, falling into you, falling into me (so yummy)
How do you do? Come and meet the queen, cake and cream
Blow your dreams, blow your dreams, blow your dreams away with me
Blow your dreams, blow your dreams, blow your dreams away with me (so yummy)
Tell 'em that it's my birthday
Tell 'em that it's my birthday
Tell 'em that it's my birthday
When I party like that
Every night's my birthday
They don't know, so it's okay
Tell 'em that it's my birthday
When I party like that
(Uh, uh-uh-uh) Jazz it up
(Uh, uh-uh-uh) Jazz it up
Feeling fine and free
Crashing into you, crashing into me (so yummy)
It's all I wanna do, come and dance with me, pretty please
Blow your dreams, blow your dreams, blow your dreams away with me
Blow your dreams, blow your dreams, blow your dreams away with me
Tell 'em that it's my birthday
Tell 'em that it's my birthday
Tell 'em that it's my birthday
When I party like that
Every night's my birthday
They don't know, so it's okay
Tell 'em that it's my birthday
When I party like that
Tell 'em that it's my birthday
Tell 'em that it's my birthday
Tell 'em that it's my birthday
When I party like that
Every night's my birthday
They don't know, so it's okay
Tell 'em that it's my birthday
When I party like that
Blow your dreams, blow your dreams, blow your dreams away with me
Blow your dreams, blow your dreams, blow your dreams away with me
Blow your dreams, blow your dreams, blow your dreams away with me
Blow your dreams, blow your dreams, blow your dreams away with me
(Party on, baby)
Tell 'em that it's my birthday
Tell 'em that it's my birthday
Tell 'em that it's my birthday
When I party like that
Every night's my birthday
They don't know, so it's okay
Tell 'em that it's my birthday
When I party like that
Tell 'em that it's my birthday
Tell 'em that it's my birthday
Tell 'em that it's my birthday
When I party like that
Every night's my birthday
They don't know, so it's okay
Tell 'em that it's my birthday
When I party like that
Lyrics © Universal Music Publishing Group
Written by: Jacob Kasher Hindlin, Michael Francis Gonzalez, Christa Russo

Lyrics Licensed & Provided by LyricFind
To comment on specific lyrics,
highlight them