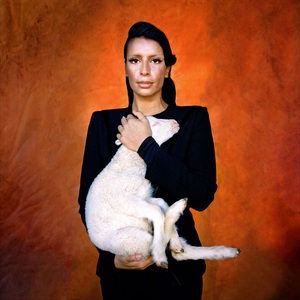 Sevda Alizadeh (born 1 September 1987), known professionally as Sevdaliza, is an Iranian-Dutch singer and songwriter. Born in Iran and based in Rotterdam, The Netherlands, she was originally a professional basketball player before embarking upon a music career. Her music has been described as a fusion of trip hop, experimental pop, and alternative R&B, while incorporating influences from various other sources.

Sevdaliza's visually sophisticated music videos caught the attention of many international blogs and magazines
Read Full Bio
Sevda Alizadeh (born 1 September 1987), known professionally as Sevdaliza, is an Iranian-Dutch singer and songwriter. Born in Iran and based in Rotterdam, The Netherlands, she was originally a professional basketball player before embarking upon a music career. Her music has been described as a fusion of trip hop, experimental pop, and alternative R&B, while incorporating influences from various other sources.

Sevdaliza's visually sophisticated music videos caught the attention of many international blogs and magazines, with Complex nominating her video for "Sirens of the Caspian" as a top ten video of the year in 2014. This was succeeded by features with Vogue and Alexander Wang, while H&M made her a brand ambassador. Sevdaliza herself describes her music as "raw, strong, and vulnerable", while her stage persona is "everything (the audience) want(s) (her) to be".

Sevdaliza was born in Tehran, Iran in 1987, but moved to the Netherlands at a young age. She left home at 16 on a basketball scholarship and played as part of the Dutch national team. She continued with basketball and her studies, but chose to start making music when she was 24. Not trained to read music or play instruments, she taught herself how to sing and how to use Ableton, drawing on the reserve of discipline that drove her time in sports.

Her debut EP The Suspended Kid was released in January 2015. It was followed by a collaboration with Pussykrew which resulted in an elaborate music video for the album cut "That Other Girl". She was also featured on Paris-based producer Stwo's track "Haunted", providing vocals.

Children of Silk, her second EP, was self-released on November 24, 2015 on Twisted Elegance. It is characterized by a more conceptual approach and darker undertones of self-reflection. A music video for "Marilyn Monroe" was released in March 2016, directed by Hirad Sab, who also designed the cover artwork for the extended play. It received critical acclaim and was featured in various "best of" lists, including a year-end ranking by FACT magazine.

She co-directed and starred in a short film, called The Formula, which was released through Noisey. It features an original soundtrack by Sevdaliza and frequent collaborator Mucky.

Her debut full-length album, titled ISON, was released in April 2017. It includes 16 tracks, among which earlier releases such as "Marilyn Monroe" and "Amandine Insensible", as well as new songs. The album cover features an image of a hyperrealistic sculpture of Sevdaliza by artist Sarah Sitkin.

Official site: www.sevdaliza.com
Genre not found
Artist not found
Album not found
Search results not found
Song not found
Darkest Hour
Sevdaliza Lyrics
We have lyrics for 'Darkest Hour' by these artists:



Alvita Hold onto love, on to love Just hold on Show all your…
Amebix My friend the time has come for us to say…
Arlo Guthrie It's the tenth of January And I still ain't had no…
Arlo Guthrie with the University of Kentucky Symphony Orchestra It's the tenth of January And I still ain't had no…
Charlie Musselwhite In your lonely room in your darkest hour Come to me…
Charlotte Martin Waiting I'm Waiting to hold nothing cause Everyone knows n…
Charlotte OC It wasn't meant to be like this A life for someone…
Cinderella Effect In my darkest hour of need I stop and I wonder Just…
Ghost Machinery Again it's knocking my door I can't take it no more Too…
Glen Phillips If I lose my faith Just remind me, just remind me When…
Glen Phillips and Nickel Creek If I lose my faith Just remind me, just remind me When…
Hans Theessink Oh the sun is nearly rising And the night is almost…
Joy Crookes Motorola was the pebble phone And all your cigarettes were M…
Lecrae Ft. No Malice [Verse 1: No Malice] Lord have mercy and pity on your…
Low Roar Home's so far away And I'm so far from home My enemies…
Lucy Love Like a dying flower my ashes will burn constantly While I'm…
Lyves Take me where you want me lover Take me where you…
Megafaun i have been wallowing in- side the darkest hour i have …
Memory of a Melody Your touch erased the pain. Freed me from everything. I ran…
Nick Wilson You found the one And I found the words to say... so I…
Nickel Creek and Glen Phillips If I lose my faith Just remind me, just remind me When…
Nickle Creek and Glen Phillips If I lose my faith Just remind me, just remind me When…
Nox Arcana Ye who read these words are still among the living,…
Place Of Skulls I shaped my time the instant that I fled And woman,…
Rescue What good can come of this? My desperation runs so deep Oh…
Then Jerico So lonely on your own So hard to be alone I know…
Undercover Hanging by a thread And out of control Could things be worse…
Whitley At least I had you once we walked along I didn't…
Zakk Wylde Your crossroads have come And as they knock upon your door C…



We have lyrics for these tracks by Sevdaliza:



5d We have our reasons We belong To the stars Guardian Angel F…
Amandine Insensible There's a woman She fails him every time She can't come down…
Backseat Love Baby i'll be runnin' over The way we got us high,…
Bebin This feeling Makes you feel grande Yet this feeling Makes me…
Clear Air [Verse 1] From time to time Building empires Please don't tr…
Energ1 You had the most Before you ghost Sighing smokes are proof I…
Grace Lord, grace me With continuous power I do not fight The war…
Hero hard faced gentle soldier meant for depression is a virus th…
Hubris Oh, my man I hold your heart Oh, pretend You ain't my And o…
Human I am, I have I breathe in and out I own a…
Human Nature Soft is the tone of my voice Water has trebled my…
Joanna Evil personified She preys on the dead Desert woman Veiled i…
Libertine Libertine if you fall i come for you libertine if you fall i…
Loves Way I pray even if I take no part I [?] In the aimless…
Marilyn Monroe It's true In this live I've never been the one In your ey…
Men of Glass This man of mine Breaks to be desired This man of mine A…
Replaceable My darling You love him Clock sticking Don't waste your time…
Scarlette Can we mold love? Reframe the truth Boy you think you are…
Shahmaran I'd weigh a million pounds if you were gravity I'd take…
Sirens of the Caspian A siren is circling Around sailor boy Her silence is rippl…
Soothsayer This is my best This is my worst It's nothing, I promise Do…
Soul Syncable It hurts Because you're growing You can't escape Patterns ke…
Taste Expectations: let em slide Building castles, running high We…
That Other Girl [Verse 1] He never knew what I was made of Heat couldn't…
The Inside Why do I break when my heart bends? Why do I…
Underneath I'd weigh a million pounds If you were gravity I'd take a…
Voodoov Oh, how beautiful How soothing, oh That everything is as it …
When I Reside My house is black Filled with watered roses In darkness I re…

The lyrics can frequently be found in the comments below, by filtering for lyric videos or browsing the comments in the different videos below.