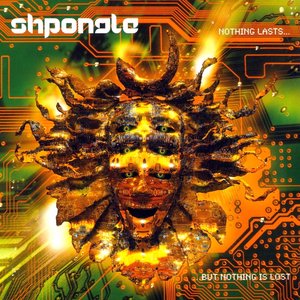 Nothing Lasts... But Nothing Is Lost
Nothing Lasts... But Nothing is Lost is a 2005 album by Shpongle. It is the project's third, and was announced as their last, studio album (though the duo later decided to make a fourth after all). Like the previous two albums, it features many live musicians and vocalists in combination with computer-generated sounds and spoken-word samples. Stylistically the album can be described as a fusion of world music, "intelligent dance music", and psychedelic trance. It is dedicated to the memory of author and psychedelic researcher Terence McKenna, whose voice and ideas are used throughout the album. All the songs are
Read Full Bio
Nothing Lasts... But Nothing is Lost is a 2005 album by Shpongle. It is the project's third, and was announced as their last, studio album (though the duo later decided to make a fourth after all). Like the previous two albums, it features many live musicians and vocalists in combination with computer-generated sounds and spoken-word samples. Stylistically the album can be described as a fusion of world music, "intelligent dance music", and psychedelic trance. It is dedicated to the memory of author and psychedelic researcher Terence McKenna, whose voice and ideas are used throughout the album. All the songs are actually linked together, so the whole album is just a continuous flow of different music that connects with each other; if the album is played from beginning to end, the listener can hear that all the songs follow one another with no break in the middle.


Miscellanea

*According to Simon Posford, the album actually has 8 tracks divided into 20 parts. Each part symbolizes a phase in the dream sequence.*The first track off the album, "Botanical Dimensions", samples from the Richard Linklater film Waking Life.*Botanical Dimensions is also the name of Terence McKenna's ethnobotanical preserve in Hawaii.*"The Nebbish Route" song samples Ned Flanders from The Simpsons episode "El Viaje Misterioso de Nuestro Jomer (The Mysterious Voyage of Homer)".*"Levitation Nation" samples a 2003 Portuguese song by the Brazilian samba school Beija-Flor de Nilópolis.*The title for "Nothing Lasts" comes from the philosophical poetry of William Blake - all flows.
Genre not found
Artist not found
Album not found
Search results not found
Song not found
Botanical Dimensions
Shpongle Lyrics
- Um, pick a color.
- Blue.
- B-L-U-E. Pick a number.
- Eight.
- 1, 2, 3, 4, 5, 6, 7, 8.
- Dream is destiny.
- You know, I just woke from a dream. It wasn't like a typical dream. It seemed more like I'd walked into an alternate universe or something.
- Yeah, it's real. I mean, technically, it's a phenomenon of sleep, but you can have so much damn fun in your dreams. And, of course, everyone knows fun rules.
- Yeah.
From Waking Life (2001)
Contributed by Alexis B. Suggest a correction in the comments below.
To comment on specific lyrics,
highlight them