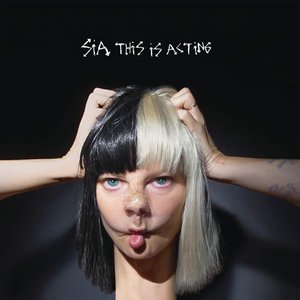 This Is Acting is the seventh studio album by Australian singer-songwriter Sia, released on 29 January 2016. The album was preceded by the release of the lead single, "Alive" on 24 September 2015. This Is Acting is Sia's follow-up to her sixth studio album 1000 Forms of Fear. In December 2014, Sia told Spin that she had "two completed and ready to go" and wanted "2015 to look like it's just been fucked". She revealed details of This Is Acting for the first time in an interview published by NME in February 2015. In the article, she confirmed once again
Read Full Bio
This Is Acting is the seventh studio album by Australian singer-songwriter Sia, released on 29 January 2016. The album was preceded by the release of the lead single, "Alive" on 24 September 2015.

This Is Acting is Sia's follow-up to her sixth studio album 1000 Forms of Fear. In December 2014, Sia told Spin that she had "two completed and ready to go" and wanted "2015 to look like it's just been fucked". She revealed details of This Is Acting for the first time in an interview published by NME in February 2015. In the article, she confirmed once again that work on the album was finished and that its content was "more pop" than her previous material. She also revealed that the success of 1000 Forms of Fear, specifically its lead single "Chandelier", encouraged her to continue releasing new material, and said of the album's title: "I'm calling it This Is Acting because they are songs I was writing for other people, so I didn't go in thinking 'this is something I would say'. It's more like play-acting. It's fun." Shortly after Sia's announcement, Out published a list of her "10 Greatest Hits for Other Artists" in anticipation of the album.

During an online chat with fans in April 2015, Sia revealed that the album would "probably" be released in early 2016, but possibly before the end of 2015. In September 2015, Sia confirmed the album's lead single "Alive" would be released later that month and was originally written for Adele; the British singer and songwriter co-wrote but "rejected" the song at the last minute. The album's release date, 29 January 2016, was confirmed in early November 2015.

"Bird Set Free" was released as the first promotional single along with the pre-order of the album on November 4, 2015. The song was originally written for Pitch Perfect 2 but it was rejected in favor of "Flashlight". The song was then pitched to Rihanna. After being rejected, it was then recorded by Adele but did not make the cut for her third studio album, 25. "One Million Bullets" was released as the second promotional single on November 27, 2015. The song is the only one on the album that was not written for another artist. "Cheap Thrills" was announced as the album's third promotional release and was released on December 16, 2015. The song was one of two tracks rejected by Rihanna who, as Furler described, was a no-show at the recording sessions. "Reaper" was released as the fourth promotional single on January 7, 2016. The song was written by herself and Kanye West for Rihanna, but Sia decided to keep it. "Unstoppable" was released as the fifth and final promotional single on January 21, 2016. Jessie Morris of Complex commented that the song sounds like a "page torn right out of Demi Lovato's Confident book", while editors of other media platforms like Idolator noticed this as well, which raised speculation that the track was intentionally written for Lovato.
Genre not found
Artist not found
Album not found
Search results not found
Song not found
Bird Set Free
Sia Lyrics
Clipped wings, I was a broken thing
Had a voice, had a voice but I could not sing
You would wind me down
I struggled on the ground, oh
So lost, the line had been crossed
Had a voice, had a voice but I could not talk
You held me down
I struggle to fly now, oh
But there's a scream inside that we all try to hide
We hold on so tight, we cannot deny
Eats us alive, oh it eats us alive, oh
Yes, there's a scream inside that we all try to hide
We hold on so tight, but I don't wanna die, no
I don't wanna die, I don't wanna die, yeah
And I don't care if I sing off key
I find myself in my melodies
I sing for love, I sing for me
I shout it out like a bird set free
No, I don't care if I sing off key
I find myself in my melodies
I sing for love, I sing for me
I'll shout it out like a bird set free
I'll shout it out like a bird set free
I'll shout it out like a bird set free
Now I fly, hit the high notes
I have a voice, have a voice, hear me roar tonight
You held me down
But I fought back loud, oh
There's a scream inside that we all try to hide
We hold on so tight, we cannot deny
Eats us alive, oh it eats us alive, oh
Yes, there's a scream inside that we all try to hide
We hold on so tight, but I don't wanna die, no
I don't wanna die, I don't wanna die, yeah
And I don't care if I sing off key
I find myself in my melodies
I sing for love, I sing for me
I shout it out like a bird set free
No, I don't care if I sing off key
I find myself in my melodies
I sing for love, I sing for me
I'll shout it out like a bird set free
I'll shout it out like a bird set free
I'll shout it out like a bird set free
I'll shout it out like a bird set free
I'll shout it out like a bird set free
I'll shout it out like a bird set free
Lyrics © Sony/ATV Music Publishing LLC
Written by: SIA FURLER, GREGORY KURSTIN

Lyrics Licensed & Provided by LyricFind
To comment on specific lyrics,
highlight them