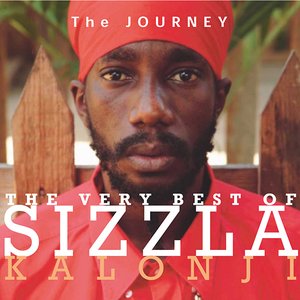 The Journey - The Very Best Of Sizzla Kalonji
Sizzla Kalonji (real name Miguel Orlando Collins) is a Jamaican reggae musician. He was born on 17 April 1976, in St Mary, Jamaica, of devout Rastafari parents and raised in August Town. He is unusually prolific, even by Jamaican standards. Sizzla has worked with such artists as Mobb Deep.

Sizzla, along with reggae recording artists such as Capleton, Buju Banton, and Anthony B, are credited with leading a movement toward a re-embracement of Rastafarian
Read Full Bio
Sizzla Kalonji (real name Miguel Orlando Collins) is a Jamaican reggae musician. He was born on 17 April 1976, in St Mary, Jamaica, of devout Rastafari parents and raised in August Town. He is unusually prolific, even by Jamaican standards. Sizzla has worked with such artists as Mobb Deep.

Sizzla, along with reggae recording artists such as Capleton, Buju Banton, and Anthony B, are credited with leading a movement toward a re-embracement of Rastafarian values in contemporary reggae music by recording material which is concerned primarily with spirituality, social consciousness, explores common themes, such as Babylon's corrupting influence, the disenfranchisement of ghetto youth, oppression of the black nation and Sizzla's abiding faith in Jah and resistance against perceived agents of oppression. Sizzla has over 40 full completed albums sold in record stores to date, the most popular which have been "Black Woman & Child" and "Da Real Thing" on the Digital B label, "Praise Ye Jah" on Xterminator, and "Rise to the Occasion" on Greensleeves.

Recently, however, he has come under fire for the homophobic content of many of his lyrics, and the advocacy of violence against gays.
Genre not found
Artist not found
Album not found
Search results not found
Song not found
Just One Of Those Days
Sizzla Lyrics
Dry cry even tears
Even my heart cry, but who cares
Who's fault? No one but myself
Things do happen words can't explain
The only human reasoning, joy mixed with pain
People would spend time just for us to separate
They don't want to see us reach nowhere
Oh girl and you know I care
Why does it have to be this way
Can't tell you go, can't tell you to stay
Just one of those days
Just one of those days
Am I too humble, or ignorant
Things began to fade, nothing seems important
Oh, My girl have left me & gone
Doesn't want to see her in another arm
The essence of her beauty, & her charm
The perfume still linger, hold on
Remember girl, where we're coming from
I'm the one to whom you belong
Girl, you keep me strong
You and you alone, no other one
Why does it have to be this way
Can't tell you go, can't tell you to stay
Just one of those days
Just one of those days
Keep looking to see her at my gate
Listening to hear the phone ring by the fireplace
Now somewhere out there is my girl
Now where can I find her in this world
Still not gonna break down, nor be sad
Even though I'm stressed out, fed up, & feeling bad
I just can't do without her, OH JAH!
Still a man got to try
Why does it have to be this way
Can't tell you go, can't tell you to stay
Just one of those days
Just one of those days
Is this happening, for real
Only if you know the vibes what I feel
Still trying to do my best
And I still won't lose my interest
My girl I love you so
Really hurts to see you go
Why does it have to be this way
Can't tell you go, can't tell you to stay
Just one of those days
Just one of those days
Lyrics © Universal Music Publishing Group
Written by: Kirk Andre Bennett, Donald Dennis, PAUL Crossdale, Migel Orlando Collins

Lyrics Licensed & Provided by LyricFind
To comment on specific lyrics,
highlight them