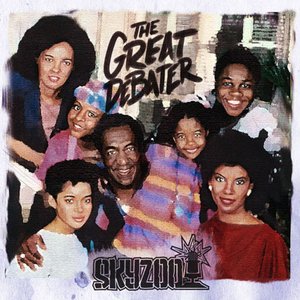 Born Gregory Skyler Taylor in 1982 in Crown Heights, he grew up in Bedford-Stuyvesant. He was nicknamed Skyzoo by his parents after the Skyy disco song (his middle name is Skyler). He began rapping at the age of nine and went on to work with producers Jay Dee and 9th Wonder, releasing several mixtapes in the hope of securing a record deal. He was beaten by Jin on BET's 106 & Park freestyle contest, but went on to have tracks used as both the theme to ESPN's Whiplash TV and the soundtrack to a Guinness advert
Read Full Bio
Born Gregory Skyler Taylor in 1982 in Crown Heights, he grew up in Bedford-Stuyvesant. He was nicknamed Skyzoo by his parents after the Skyy disco song (his middle name is Skyler). He began rapping at the age of nine and went on to work with producers Jay Dee and 9th Wonder, releasing several mixtapes in the hope of securing a record deal. He was beaten by Jin on BET's 106 & Park freestyle contest, but went on to have tracks used as both the theme to ESPN's Whiplash TV and the soundtrack to a Guinness advert, and set up his own Custom Made Entertainment company. He has also had a long association with North Carolina rap crew the Justus League, whom he was introduced to via his friend Chaundon, and who he describes as his "second family". Jay Dee's death in 2006 prompted Skyzoo to pay tribute with the song "Sky's Last Donut". He worked with 9th Wonder on his debut album, Present Cloud 9: The 3 Day High, which reputedly took only three days to record. He also contributed to three tracks on the Hall of Justus album Soldiers of Fortune.

He released the critically-acclaimed Corner Store Classic mixtape in 2007, and released a remixed version, including some new material, as a digital download album in 2008. Corner Store Classic was rated 'XL' (4/5) by XXL Magazine. In 2007, he stated that he had a second album ready, called The Salvation, but was waiting for a major record deal before releasing it.

He cites as influences hip hop artists such as Notorious B.I.G., Jay-Z, Nas, N.W.A., Big Daddy Kane, and Kid 'n Play, as well as artists such as Sade, Nirvana and John Coltrane, and cites Coltrane's A Love Supreme as his favorite album. He credits J Dilla as his biggest inspiration and favorite producer. He has been critical of the direction that Hip Hop has taken, stating "People are taking the 'whetever we gotta do' method, resulting in gimmick records. I'm about making money but it has to be with dope records".
Genre not found
Artist not found
Album not found
Search results not found
Song not found
Complicated Rhythm
Skyzoo Lyrics
They give me the same flack they gave Gloria son
Either or James or Carter, but both of them won
So either or take it to heart or eat all that you want
I made more reaching from y'all than hoping you sprung
The same door that he was in front of and wanted to rush
Is now leased in his name, did he come up or what
Strange' are in order, hallways did it for him?
Inspired to get it by him,
Parkay of the talkers
Shit is butter like
Big was still here on another life
I walk by them steps everyday, so now who wanna write?
Back like running lights and Po' now follow
And that armrest is locked, so someone get the swallowing
If y'all blessed to watch, then someone get the honoring
On it like I'm towering, acknowledge my acknowledgment
Still means just what it says
So if you got it then consider you in the echelon of those hollerin'
Great Debater, made it the give and go
Kick fly talk and slide off, I'm Henry Lowe
Call it Complicated Rhythm
Cause as far as how they listening
They get it but don't get it and I don't bother what they missin'
If they missed it, no difference
Know them martyrs get dismissed
So it's snowing all roses and the thorns is in the wind
And if you caught one in the end
You was drawn to it again
You clicked on the ZShare, you just bought you a syringe
This shit is in reach where they got to bargain to get in
So give him the scene there, they'll be nodding off again
Now I pardoned it again, I was pardon off of wonders
And I Drew it like I play point guard for the Thunder
So all of what it leads to, started off the EQ
Wasn't Dwyane Wade but I was on my Jordan 3 move
Wasn't Dwayne Wayne but had a broad like Keanu
And jealous bitches called her "kee low-low"
For my complicated rhythm, took muthafuckas about as far as it could get 'em
Look at how they love it when it's on in the system
One shot, caught 'em in the rhythm
I took 'em like there like…
Contributed by Mila W. Suggest a correction in the comments below.
To comment on specific lyrics,
highlight them