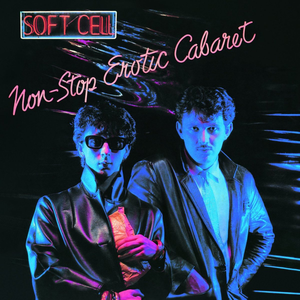 Non-Stop Erotic Cabaret is the first album released by the synthpop duo Soft Cell, released in 1981 by Some Bizarre Records. The album's critical and commercial success was bolstered by the worldwide success of its single "Tainted Love", a cover version of a little-known R&B song by Gloria Jones which topped charts worldwide and became the best-selling British single of 1981 in the United States. The album produced two more Top-5 singles in the UK in "Bedsitter" and the unapologetically sentimental "Say Hello, Wave Goodbye." Despite the reputation of many new wave bands as being on the cutting edge of
Read Full Bio
Non-Stop Erotic Cabaret is the first album released by the synthpop duo Soft Cell, released in 1981 by Some Bizarre Records. The album's critical and commercial success was bolstered by the worldwide success of its single "Tainted Love", a cover version of a little-known R&B song by Gloria Jones which topped charts worldwide and became the best-selling British single of 1981 in the United States. The album produced two more Top-5 singles in the UK in "Bedsitter" and the unapologetically sentimental "Say Hello, Wave Goodbye."

Despite the reputation of many new wave bands as being on the cutting edge of technology, the album was created on a very low budget; it was supposedly recorded almost entirely with a Revox tape recorder, a borrowed Roland drum machine belonging to Kit Hain, a small, preset Roland bass synthesizer, and an NED Synclavier, belonging to producer Mike Thorne. The album was recorded in New York City at the height of its gay club scene, at a time which the drug MDMA (also called ecstasy) was just beginning to become popular. The sound and club beats of the album reflect this atmosphere, with songs about pornographic cinemas and infidelity, although the album's themes sprang not from New York but the seedy underworld of early Eighties London. The group caused some controversy in the UK over the single "Sex Dwarf," the music video of which was banned for explicit, S&M-related content. The duo would delve deeper into its fascination with decadence on its subsequent works, including the 1982 remix album Non-stop Ecstatic Dancing, which features an alternate cut of "Sex Dwarf" on which singer Marc Almond, famous for his flamboyant, unabashed homosexuality, appears to simulate a female orgasm with his voice.

Notably, many of their most acclaimed songs (including "Torch" and "Where Did Our Love Go ?") do not appear on their LP releases. An example of this is "Tainted Love," which, when originally recorded, was almost nine minutes long because it gradually segued into "Where Did Our Love Go?" After it was recorded, the session was split into two different songs, with "Where Did Our Love Go?" only being listenable as the B-side to "Tainted Love" or on the full nine-minute cut, which was sold as a 12-inch single. As a result, many of their singles have become quite valuable. Their first release, the single "A Man Can Get Lost" b/w "Memorabilia" may fetch prices as high as $85 (approximately £50), because the original version was for many years unavailable on CD (although a re-recorded version appears on their 1982 release Non-stop Ecstatic Dancing under the name "A Man Could Get Lost").

The song "Frustration" also appears on the rare 1980 independently released EP, Mutant Moments, although the two versions are very different and contain slightly different lyrics. Remixes of several tracks, including "Sex Dwarf" and an instrumental cut of "Chips on My Shoulder" also appear on the remix album, Non-stop Ecstatic Dancing.

In 2008, American magazine OUT ranked Non-Stop Erotic Cabaret number 66 on their list of "100 Greatest, Gayest Albums."
Genre not found
Artist not found
Album not found
Search results not found
Song not found
Fr..fr...fr...frustration!
Frustration
Frustration
I have life
Ordinary wife
I have car
A favorite bar
I have job
A moderate wage
I get the pains
That come with age
I am so ordinary
I have child
She goes wild
I have home
A mortgage of my own
I have hobby
But it's nothing very special
I do the garden
I watch girls
I am so ordinary
I have life
I have cage
I'm going bald
I want to tell the world
I've done nothing
I've achieved nothing
I work for a firm
But I want to burn it down, down
I am so ordinary
I am so ordinary
I was born
One day I'll die
There was something in between
I, I don't know what
Or why
I'm a man
I want to break a rule
I am a no, no, no, no, no, no, nobody
Everybody's fool
I am so ordinary
Frustration
Frustration
Frustration
Frustration
I'm so tired of endless art
Love stories
I'm beginning to not give a damn
I wish I could reach right out for the untouchable
Film starring Bruce, John Wayne, Elvis Presley
Experiment with cocaine, LSD and set a bad bad example
Live a little, run a harem, be a tiger
Meet Bo Derek and be her Tarzan
Reach, reach out out
Live, live, live
Die, die, die
I, I, I, I wanna die
Frustration, oh
Frustration
Frustration
Frustration
I wanna die
I wanna die, die, die, die
Die, die, d..d..d..die, die, die
Frustration
I wanna die
Lyrics © Warner Chappell Music, Inc.
Written by: DAVID JAMES BALL, MARC ALMOND

Lyrics Licensed & Provided by LyricFind
To comment on specific lyrics,
highlight them