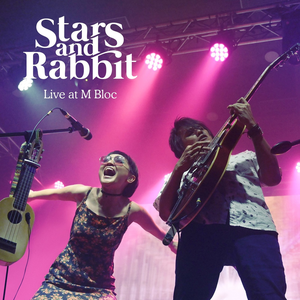 Stars and Rabbit, an Indonesian folk music duo, formed in early 2011 in Yogyakarta. The group consisted of singer-songwriter Elda Suryani (born May 29, 1983) and musician Adi Widodo (born July 31, 1983). Their single 'Worth It' drew them attention from a small variety of communities in Indonesia and the United Kingdom, as part of the indie pop/folk scene. Stars and Rabbit engages a do-it-yourself approach to writing and recording. Their music is a melding of pop and folk influences with raw simplicity of composition
Read Full Bio
Stars and Rabbit, an Indonesian folk music duo, formed in early 2011 in Yogyakarta. The group consisted of singer-songwriter Elda Suryani (born May 29, 1983) and musician Adi Widodo (born July 31, 1983). Their single 'Worth It' drew them attention from a small variety of communities in Indonesia and the United Kingdom, as part of the indie pop/folk scene. Stars and Rabbit engages a do-it-yourself approach to writing and recording. Their music is a melding of pop and folk influences with raw simplicity of composition, arrangement, and performance.

Elda first appearance as a professional musician in the early 2000s, as a singer in a cafe band, Candles. She was demanded to be able to sing any kind of music that was popular at that time, from pop to rock, even R&B hiphop to jazz. In her teenage years, she always caught up with alternatives music. So, its been an inspiring journey for her musical knowledge. Adi himself was a fans of Elda when she led her band, before they knew each other in 2004. He became a session musician which ever supported Elda performances with for several times

Afterwards Elda followed a reality show audition in the middle of 2006. She had no idea what she got into yet she came up as the winner and became the lead singer of a rock band that held the audition, eVo. On their 2007 self-titled album, a contract has signed with major label Sony-BMG Indonesia. She began to work on completing what would be their first studio album with its first mainstream single 'Aggresive'. The band took a hiatus after a short time of promoting period.

During the hiatus, 2008 – 2010, Elda worked as a fashion stylist for several free magazines at Jakarta, afterwards she opened a second hands & handmade shop called Little Garage with her bestiest in Yogyakarta till now.

Early 2011, she decided to meet up her fellow musician,Adi, to continued her burried passion and start a new project then began record her new songs. The project then became a duo, calling themselves Stars and Rabbit, and first performed publicly on September 2011 at Prambors On The Move roadshow in Jakarta. As one of their songs became a soundtrack for one of prambors radio program by that time.
Genre not found
Artist not found
Album not found
Search results not found
Song not found
We have lyrics for 'Lumina' by these artists:



Joan Osborne Lumina Come and wrap around me Lumina Take me through…
OSBOURNE Joan Lumina Come and wrap around me Lumina Take me through the sn…



We have lyrics for these tracks by Stars and Rabbit:



Catch Me You rushin to a telephone When you hear me Cry Cry You rushi…
Cry Little Heart Think of your fellow man, lend him a helping hand Put…
I Anything we should know about your change? Light from unde…
I'll Go Along Monday's child is fair of face And Tuesday's child is full…
Let It Here Subtle signs that fell on blinded eyes And no one spoke…
Like It Here I like it like that Yeah baby I like it like that I…
Man Upon the Hill Hey man upon the hill, up here I used to write…
Old Man Finger 哀泣き笑い ときは流れた 強者達の夢の跡 あの日の熱い僕はもういない 燃え尽き 死んだはずさ もう一切 金輪際 …
Rabbit Run Your story is my story... My story is my story... Can I…
The House Everythin' inside my house is broke The stove don't work M…
Worth It Are you coming baby eyes It takes two to do the…

The lyrics can frequently be found in the comments below, by filtering for lyric videos or browsing the comments in the different videos below.