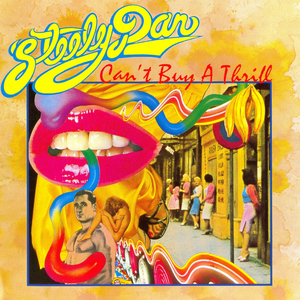 Can't Buy a Thrill is the first album by Steely Dan. Originally released in 1972, the album was a huge success. It went gold, and then platinum, peaking at #17 on the charts. In 2003, the album was ranked number 238 on Rolling Stone magazine's list of the 500 greatest albums of all time. Two songs were left out from the album and released as a single ("Dallas" and "Sail the Waterway"), but to date they have not been released on CD. The album was originally released in two-channel Stereo and also in a special four-channel Quadrophonic mix. There are
Read Full Bio
Can't Buy a Thrill is the first album by Steely Dan. Originally released in 1972, the album was a huge success. It went gold, and then platinum, peaking at #17 on the charts. In 2003, the album was ranked number 238 on Rolling Stone magazine's list of the 500 greatest albums of all time. Two songs were left out from the album and released as a single ("Dallas" and "Sail the Waterway"), but to date they have not been released on CD.

The album was originally released in two-channel Stereo and also in a special four-channel Quadrophonic mix. There are some significant musical differences between the two mixes, such as extra lead guitar fills in the Quad mix of Reelin' in the Years.

The album cover features a line of prostitutes standing in a red light area waiting for clients, an image which was chosen because of its relevance to the album title. The title is taken from a line from Bob Dylan's song "It Takes a Lot to Laugh, It Takes a Train to Cry".
Genre not found
Artist not found
Album not found
Search results not found
Song not found
In the mornin' you go gunnin' for the man who stole your water
And you fire 'til he is done in but they catch you at the border
And the mourners are all singin' as they drag you by your feet
But the hangman isn't hangin' and they put you on the street
You go back, Jack, do it again, wheel turnin' 'round and 'round
You go back, Jack, do it again
When you know she's no high climber then you find your only friend
In a room with your two-timer, and you're sure you're near the end
Then you love a little wild one and she brings you only sorrow
All the time you know she's smilin' you'll be on your knees tomorrow, yeah
You go back, Jack, do it again, wheel turnin' 'round and 'round
You go back, Jack, do it again
Now you swear and kick and beg us that you're not a gamblin' man
Then you find you're back in Vegas with a handle in your hand
Your black cards can make you money so you hide them when you're able
In the land of milk and honey, you must put them on the table, yeah
You go back, Jack, do it again, wheel turnin' 'round and 'round
You go back, Jack, do it again
Lyrics © Universal Music Publishing Group, Royalty Network
Written by: Donald Jay Fagen, Walter Carl Becker, Donald Fagen

Lyrics Licensed & Provided by LyricFind
To comment on specific lyrics,
highlight them