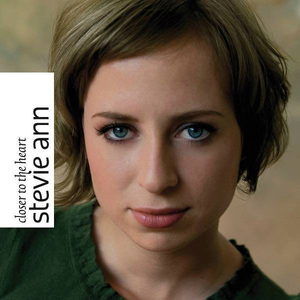 Stevie Ann (born as Anna Stéphanie Struijk) is a singer-songwriter from the Netherlands (Limburg). She began making music at a young age. From the moment she picked up the guitar, she started writing her own lyrics.
Her influences include artists such as Sheryl Crow and Alanis Morissette.

Stevie Ann's debut album Away From Here was launched in the summer of 2005 and contains twelve self-written songs. Her two singles 'The poetry man' and 'One year of love' reached the higher ranks of the Dutch 'Mega Top 50'
Read Full Bio
Stevie Ann (born as Anna Stéphanie Struijk) is a singer-songwriter from the Netherlands (Limburg). She began making music at a young age. From the moment she picked up the guitar, she started writing her own lyrics.
Her influences include artists such as Sheryl Crow and Alanis Morissette.

Stevie Ann's debut album Away From Here was launched in the summer of 2005 and contains twelve self-written songs. Her two singles 'The poetry man' and 'One year of love' reached the higher ranks of the Dutch 'Mega Top 50' , which increased her popularity.

In her short career Stevie Ann has already won two prestigious prizes in the Dutch music industry. In November 2005 she won an 'Essent Award', a prize awarded to young and promising artists. A few months later, February 2006, she received a Silver Harp.
Genre not found
Artist not found
Album not found
Search results not found
Song not found
I've Listened To Buddha
Stevie Ann Lyrics
We have lyrics for these tracks by Stevie Ann:



Baby Blue I've been too strong for myself given no time for anything…
Carry Me Home I fly over mountains cause i don't know the way…
Get Away Did you take them The things I Left when you weren't there A…
Johnny Johnny was a pretty nice boy, living in this tempting…
Leaving Next Time I see myself in a way some girls do no one…
Light Up For a while I've been driving The nighttime into day Until n…
One Year Of Love Just one year of love Is better than a lifetime alone One…
Overdone And again, the clouds getting away Well i guess, this is…
Simple Twist of Fate They sat together in the park As the evening sky grew…
The Poetry Man The poertry man I haven't been hungry for days I bet you…
What Goes On I could scream into a microphone And i'm feeling so alone Ye…
You Done Me Wrong You left me waiting up for you all night By the…
You Versus Me So you ran away from misery You left it all behind I…

The lyrics can frequently be found in the comments below, by filtering for lyric videos or browsing the comments in the different videos below.