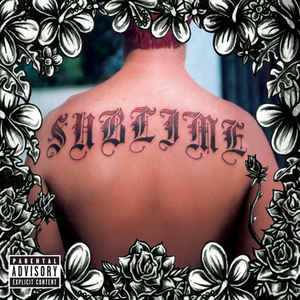 Sublime is the third and final album released by the band Sublime, on July 30, 1996, two months after frontman Bradley Nowell's death. The album was a major commercial success, going five times platinum in 1999 and etching Sublime into a permanent place among the stars of mid-90s alternative rock. Its most popular single, "What I Got", was an uncharacteristically poppy song; the bulk of the album was faithful to Sublime's ska, dub, and reggae influences, with tempos ranging from the frantic — such as "Seed," "Same in the End," and "Paddle Out" — to the slow and deliberate, such
Read Full Bio
Sublime is the third and final album released by the band Sublime, on July 30, 1996, two months after frontman Bradley Nowell's death. The album was a major commercial success, going five times platinum in 1999 and etching Sublime into a permanent place among the stars of mid-90s alternative rock. Its most popular single, "What I Got", was an uncharacteristically poppy song; the bulk of the album was faithful to Sublime's ska, dub, and reggae influences, with tempos ranging from the frantic — such as "Seed," "Same in the End," and "Paddle Out" — to the slow and deliberate, such as "Pawn Shop" and "Jailhouse." "Jailhouse", is a cover of a Bob Marley song which can be found on many Bob Marley albums including "The Wailing Wailers at Studio One, Vol. 2".

The musical styles throughout the album vary nearly as much as the subjects discussed, ranging from the mellow Hip Hop groove of "Doin' Time" and reggae beat of "Caress Me Down" to the pop-rock "What I Got" and the hardcore punk sound of "Paddle Out". The genre-crossing musical diversity expressed on the album is one of the more compelling reasons for the record's wide mainstream appeal.

The album marked the band's debut on a major label (MCA) after several releases on Skunk Records.
Genre not found
Artist not found
Album not found
Search results not found
Song not found
Garden Grove
Sublime Lyrics
We took this trip to Garden Grove
It smelled like Lou-dog inside the van, oh yeah
This ain't no funky reggae party, $5 at the door
It gets so real sometimes, who wrote my rhyme
I've got the microwave, got the VCR
I got the deuce-deuce in the trunk of my car, oh yeah
If you only knew all the love that I found
It's hard to keep my soul on the ground
You're a fool, don't fuck around with my dog
All that I can see I steal, I fill up my garage
'Cause in my mind
Music from Jamaica, all the love that I found
Pull over there's a reason why my soul's unsound
It's you
It's that shit stuck under my shoe
It's that smell inside the van
It's my bed sheet covered with sand
Sitting through a shitty band
Getting dog shit on my hands
Getting hassled by the man
Waking up to an alarm
Sticking needles in your arm
Picking up trash on a freeway
Feeling depressed everyday
Leaving without making a sound
Picking my dog up at the pound
Living in a tweaker pad
Getting yelled at by my dad
Saying I'm happy when I'm not
Finding roaches in the pot
All these things I do
They're waiting for you
Lyrics © BMG Rights Management, Universal Music Publishing Group
Written by: BRADLEY JAMES NOWELL, ERIC JOHN WILSON, FLOYD I. GAUGH IV

Lyrics Licensed & Provided by LyricFind
To comment on specific lyrics,
highlight them