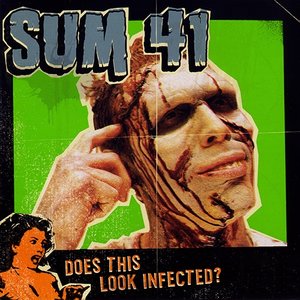 The second studio album by Canadian band Sum 41, released on November 26, 2002. It is their only album to feature a Parental Advisory label on the cover, despite the fact that other albums by the band also feature profanity. It was released in both explicit and edited versions. The cover for Does This Look Infected? shows drummer Steve Jocz dressed as a zombie. It was chosen months before the title. The album was almost delayed by the label because the band members did not have a name for it on time until Whibley thought of the name Does This
Read Full Bio
The second studio album by Canadian band Sum 41, released on November 26, 2002. It is their only album to feature a Parental Advisory label on the cover, despite the fact that other albums by the band also feature profanity. It was released in both explicit and edited versions.

The cover for Does This Look Infected? shows drummer Steve Jocz dressed as a zombie. It was chosen months before the title. The album was almost delayed by the label because the band members did not have a name for it on time until Whibley thought of the name Does This Look Infected?. The whole band laughed at the idea and chose it. The same idea was also used on the band's EP "Does This Look Infected Too?", except Jocz was replaced with Whibley, also dressed as a zombie.

"Does This Look Infected?" has received positive reviews from music critics. On Metacritic, the album has 75 out of 100. E! Online said that it "has a clutch of songs that mix chord-y abandon with raging rock riffs--and a heck of a lot of good times". Blender also gave it a positive review, saying, "So Sum 41 have grown up... a little.... It's all relative, and, crucially, it still rocks."

"Does This Look Infected?" debuted at #8 on the Canadian Albums Chart, selling 17,000 copies in Canada in its first week. The album gained commercial success, with singles "The Hell Song" and "Still Waiting" mainly gaining success on the modern rock charts. The album has since sold over 4.5 million copies worldwide, but the album did not have as much success as the band's previous album "All Killer No Filler".

The album was included at number 28 on Rock Sound's "The 51 Most Essential Pop Punk Albums of All Time" list. The band toured to celebrate its 10th anniversary in 2012, and its 15th anniversary in 2018, playing the album in its entirety. Whibley himself stated he was not satisfied with how the album was mixed, stating "I've always, always hated the way this album sounds. I hated it in the studio and it still bothers me. The demo I made myself at home sounded better than the final mix."
Genre not found
Artist not found
Album not found
Search results not found
Song not found
The Hell Song
Sum 41 Lyrics
Everybody's got their problems
Everybody says the same things to you
It's just a matter how you solve them
And knowing how to change the things you've been through
I feel I've come to realize
How fast life can be compromised
Step back to see what's going on
I can't believe this happened to you
This happened to you
It's just a problem that I'm faced with am I
Not the only one who hates to stand by
Complications that are first in this line
With all these pictures running through my mind
Knowing endless consequences
I feel so useless in this
Get back, step back, and as for me
I can't believe
Part of me won't agree
'Cause I don't know if it's for sure
Suddenly, suddenly
I don't feel so insecure
Part of me won't agree
'Cause I don't know if it's for sure
Suddenly, suddenly
I don't feel so insecure
Anymore
Everybody's got their problems
Everybody says the same things to you
It's just a matter how you solve them
But what else are we supposed to do
Part of me won't agree
'Cause I don't know if it's for sure
Suddenly, suddenly
I don't feel so insecure
Part of me won't agree
'Cause I don't know if it's for sure
Suddenly, suddenly
I don't feel so insecure
Anymore
Why do things that matter the most
Never end up being what we chose
Now that I find knowing so bad
I don't think I knew what I had
Why do things that matter the most
Never end up being what we chose
Now that I find knowing so bad
I don't think I knew what I had
Lyrics © Sony/ATV Music Publishing LLC, Kobalt Music Publishing Ltd.
Written by: Deryck Jason Whibley, Greig Andrew Nori

Lyrics Licensed & Provided by LyricFind
To comment on specific lyrics,
highlight them