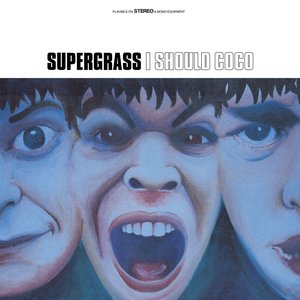 I Should Coco is the debut studio album by Supergrass, released through Parlophone in May 1995. They released their debut single from the album, "Caught by the Fuzz", in May 1995 on the small independent local label Backbeat Records and was re-released with Parlophone. I Should Coco was recorded in Cornwall and produced by Sam Williams. At the height of the Britpop era, the album became the band's most successful release when it reached number one on the UK Albums Chart, and subsequently gained platinum status for sales of album, which reached over a million copies worldwide and 500,000 in
Read Full Bio
I Should Coco is the debut studio album by Supergrass, released through Parlophone in May 1995.
They released their debut single from the album, "Caught by the Fuzz", in May 1995 on the small independent local label Backbeat Records and was re-released with Parlophone.
I Should Coco was recorded in Cornwall and produced by Sam Williams.

At the height of the Britpop era, the album became the band's most successful release when it reached number one on the UK Albums Chart, and subsequently gained platinum status for sales of album, which reached over a million copies worldwide and 500,000 in the UK.

Title:
The title of the album is cockney rhyming slang for "I should think so''. (Rhyming slang is a form of phrase construction in the English language).

Cover art:
The front cover of the album is a painting based on three separate photos of Coombes, Goffey, and Quinn. The portraits of Coombes and Goffey were taken by Quinn in the summer of 1994 when he was experimenting with a macro lens. The photo of Quinn was taken that same year by a friend, while they were on tour in Wolverhampton. The painting was then created by the Moody Painters.
Genre not found
Artist not found
Album not found
Search results not found
Song not found
I'd Like to Know
Supergrass Lyrics
I like to wake up on a Saturday, say "Hello you"
A cup of coffee and I smoke a cigarette or two
Never had it so good
Never got it - it could be love before
I like to run around with everyone you know it's true
Driving down the street I'm always looking for a better view
I'd like to know where all the strange ones go
I'd like to go where all the strange ones go
I'd like to know what all the strange ones know
I've gotta go where all the strange ones go
Do they live alone?
I like to wake up in the middle of a dream with you
Going up and down I'm always looking for a better view
I'd like to know where all the strange ones go
I'd like to go where all the strange ones go
I'd like to know what all the strange ones know
I've gotta go where all the strange ones go
I'd like to know where all the strange ones go
I'd like to go where all the strange ones go
I'd like to know what all the strange ones know
I've gotta go where all the strange ones go
All the strange ones know
Lyrics © Sony/ATV Music Publishing LLC
Written by: DANIEL GOFFEY, GARETH COOMBES, MICHAEL QUINN

Lyrics Licensed & Provided by LyricFind
To comment on specific lyrics,
highlight them