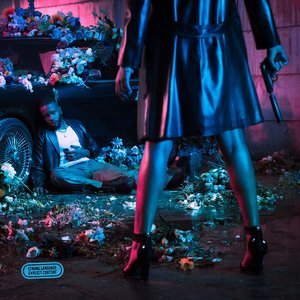 Fleur froide - Second état : la cristallisation
Julien Bouadjie, a.k.a. Tayc, is a Cameroonian-French singer-songwriter from Marseille.
Genre not found
Artist not found
Album not found
Search results not found
Song not found
N U E
Tayc Lyrics
We have lyrics for these tracks by Tayc:



6:15 Am Tu pensais vraiment que... Pourquoi? Parce que t'étais persu…
À Deux Taykee day Taykee J'ai beau repenser à nous deux, j'vois ri…
Awa Taykee day taykee Awa, Awa fais-moi bisous Awa, Awa fais-mo…
Bangué Taykee di taykee di taykee Bye bye bye draaah Bangué, bangu…
Better J'essaie encore et encore, de n'briller que pour toi J'essai…
Boulevard I don't know why, you said goodbye Just let me know you…
C'est lui Taykee di Taykee Solo je naviguais, toi t'es montée à bord …
Camille Afrolov' (Taykee di Taykee) (Oh) si je t'ai suivi depuis l'…
Cette vie Monsieur Tayc, monsieur Tayc Depuis quelques mois vous passe…
Comme toi Oh-oh-oh, oh-oh woah, oh woah Taykee de Taykee Ça fait des …
Coucou Emy Hey Taykee di Taykee Yeah Yah Je t'ai demandé si je po…
Déteste moi Taykee day taykee day taykee Yeah Tu sais bien, je suis dés…
Divina Taykee2Taykee2Taykee, wow Divina, Divina, Divina, Divina Div…
Drive In Laisse moi rouler Yeah Laisse toi allée Ou laisse nous roule…
Faut parler Eh, Taykee de Taykee de Taykee On m'a dit "Taykee, tu…
Haine colorée Tu as compris c'que tu voulais, hun Je n'avais pourtant rien…
Hookah Hookah, hookah, hookah, ooh Hookah, hookah, hookah, ooh Ho…
Huis Clos L'heure à sonné, fais le pour moi, n E sors plus…
J'ai mal Oh love, don't love Oh yeah-yeah, yeah Oh you love Baby, oh …
J'me refais Oh Taykee de Taykee J'me suis sapé, eh J'vais faire ma mala…
Jenevah L'agonie... L'agonie... L'agonie... J't'ai déjà demandé pard…
JVMVIS Ne dis plus jamais jamais Ne dis plus jamais jamais Ton cœur…
La mienne Yeah Yo Taykee di Taykee T'es déjà rentrée On a même pas pu…
La nuit Oh Nyxia Tu vis la nuit quand l'âme se meurt oh Oh…
La verre de trop II Tayc de Tayc J'ai parlé sur toi, j'avoue J't'ai même mis un…
Le miel J'aimerai faire couler le miel Couler le miel J'aimerai fair…
Le temps Eeh Eeh-eeh-eeh Oh, ooh Tayc day Tayc Wanna do, wanna do, wa…
Le verre de trop Ouh no oh no oh no Ouh no oh no oh…
Le verre de trop II Tayc de Tayc J'ai parlé sur toi, j'avoue J't'ai même mis un…
Les filles Yeah boy J'défile, j'défile, j'défile, j'défile, j'défile, …
Les larmes Et si tu doutes n'oublie pas qu'tu es mienne Car je…
Ma lov' Moi j'veux faire d'la mula Bébé s'teuplait m'demande pas de …
Makossa Je veux qu'on danse le Makossa On danse le Makossa, yeah Tay…
Marabout Pourquoi te promettre la lune j'ai pas de quoi la…
Mind Tayc-da-Tayc Dis-moi si j'me suis trompé Mais j'vois bien q…
Moi je prouve. Pour nous j'me suis fais du mal, toi tu n'en…
Mon cadeau Ça fait grave longtemps qu'on s'tourne autour (mais tu fais…
N'y pense plus Ne pense plus à lui, tu t'fais du mal, s'te…
Namiko Namiko, Namiko Na Namiko, Namiko Na Dis-moi oui, dis-moi oui…
Nelly Nelly Nelly tu t'en vas commettre un délit Nelly Nelly J't'a…
Nos torts Tayc-da-tayc Pourquoi c'est moi qui doit faire un effort? Ja…
On se connaît J'te l'avoue j'ai fais du sale J'te l'avoue oui je t'ai…
Palavra Taykee di Taykee On s'est promis le pire, tu le sais…
Petit coeur Petit cœur n'a plus de souffle Il est seul dans le…
Promis juré On m'a dit "pose-toi les bonnes questions" On m'a dit "derri…
PVI PVI, PVI, PVI PVI, PVI, PVI PVI, PVI Taykee di Taykee J'éta…
Random Oh, eh Taykee de Taykee de Taykee On est true, on est…
Ready Ready, ready oh Ready, ready oh Ready, j'suis ready oh Ready…
Ride J'suis tout seul quand je ride Tout seul quand je ride Dans…
T J'aimerais faire couler le miel Me loger on elle sans que…
Tchokodi Tu sais que j'aime mater ton body oh T'es déclassé si…
Tout reprendre Oh no no no Oh no no no Oh no no no Je…
trip Tu voulais y aller, tout oublier dans ma ride J'voulais alle…
Tu nies C'est souvent quand tu me vois, sourire, que tu regrettes C'…
Un détail Accorde nous plus de temps On bâtira plus d'un empire L'homm…
Unfollow J'ai tout pris, tout c'qu'il fallait Fais vite bébé, Papa t'…
Vrai OG Hehehe (Josh) Elle ne veut pas d'un vrai OG (yeah, ayy) (Yo…

The lyrics can frequently be found in the comments below or by filtering for lyric videos.