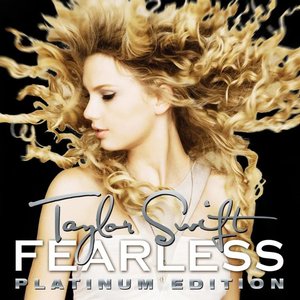 Fearless (Platinum Edition)
Fearless is the second studio album by American singer-songwriter Taylor Swift. The album was released on November 11, 2008, by Big Machine Records. Swift wrote most of the songs during the time when she was promoting her self-titled debut studio album performing as an opening act for other country artists. Of the 13 tracks on the standard edition, eight were solely written by Swift, and the other were co-written by Swift with Liz Rose, Hillary Lindsey, Colbie Caillat, and John Rich. Swift also made her debut as a record producer, co-producing all songs with Nathan Chapman. Fearless is a country
Read Full Bio
Fearless is the second studio album by American singer-songwriter Taylor Swift. The album was released on November 11, 2008, by Big Machine Records. Swift wrote most of the songs during the time when she was promoting her self-titled debut studio album performing as an opening act for other country artists. Of the 13 tracks on the standard edition, eight were solely written by Swift, and the other were co-written by Swift with Liz Rose, Hillary Lindsey, Colbie Caillat, and John Rich. Swift also made her debut as a record producer, co-producing all songs with Nathan Chapman.

Fearless is a country pop album that incorporates elements of crossover pop that commentators found appealing to a broader, mainstream audience. It incorporates acoustic instruments such as banjo, fiddle, and guitar in its production, and lyrically depicts Swift's perceptions of her romantic relationships. The album received generally positive reviews from critics, who commended Swift's songwriting ability resulting in radio-friendly songs. The most awarded album in the history of country music, Fearless won Album of the Year at the Grammys, the Country Music Association Awards, and the Academy of Country Music Awards. The Grammy for Album of the Year made Swift, then 20 years old, the youngest artist to win the award at the time. Fearless debuted at number one on the Billboard 200 chart, selling 592,000 copies in its first week. It spent 11 weeks at the top spot and was the best-selling album of 2009, making Swift—18 years old at the time of the album's release—the youngest artist to have the best-selling album of a calendar year. The album is certified Diamond by the Recording Industry Association of America, for earning over 10 million units in the US, selling over 7.18 million pure copies in the country. Worldwide, it is one of the best-selling albums of the 21st century. Fearless also reached number one in Canada and New Zealand, and has sold over 12 million copies worldwide.

Fearless spawned five singles: "Love Story" and "You Belong with Me" reached the higher-tier positions on record charts worldwide, becoming successful crossover hits, reaching the number-one spot on the Billboard Hot Country Songs chart, and peaking at numbers four and two on the Billboard Hot 100, respectively. "White Horse" peaked at number 13 on the Hot 100, while "Fifteen" peaked at number 23. The title track reached the ninth spot on the chart while "Change" peaked at number 10. Upon the release of the album's platinum edition, the bonus track "Jump Then Fall" debuted at number 10, becoming the album's fifth top 10 hit on the Hot 100. All the singles are certified platinum or multi-platinum by the RIAA. To promote the album, Swift embarked on the Fearless Tour, which ran from April 2009 to June 2010, and grossed $66.5 million from 99 shows.
Genre not found
Artist not found
Album not found
Search results not found
Song not found
I like the way you sound in the morning,
We're on the phone and without a warning
I realize your laugh is the best sound I have ever heard
I like the way I can't keep my focus,
I watch you talk you didn't notice
I hear the words but all I can think is we should be together
Every time you smile, I smile
And every time you shine, I'll shine for you
Whoa oh I'm feeling you baby
Don't be afraid to jump then fall, jump then fall into me
Baby, I'm never gonna leave you,
Say that you wanna be with me too
Cuz I'ma stay through it all so jump then fall
Well I like the way your hair falls in your face
You got the keys to me I love each freckle on your face, oh,
I've never been so wrapped up,
Honey, I like the way you're everything I've ever wanted
I had time to think it all over and all I can say is come closer,
Take a deep breath and jump then fall into me
Every time you smile, I smile
And every time you shine, I'll shine for you
Whoa oh I'm feeling you baby
Don't be afraid to jump then fall, jump then fall into me
Baby, I'm never gonna leave you,
Say that you wanna be with me too
I'ma stay through it all so jump then fall
The bottoms gonna drop out from under our feet
I'll catch you, I'll catch you
When people say things that bring you to your knees,
I'll catch you
The time is gonna come when you're so mad you could cry
But I'll hold you through the night until you smile
Whoa oh I need you baby
Don't be afraid please
Jump then fall, jump then fall into me
Baby, I'm never gonna leave you,
Say that you wanna be with me too
I'ma stay through it all so jump then fall
Jump then fall baby
Jump then fall into me, into me
Every time you smile, I smile
And every time you shine, I'll shine
And every time you're here baby, I'll show you, I'll show you
You can jump then fall, jump then fall, jump then fall
Into me, into me yeah
Lyrics © Universal Music Publishing Group, Sony/ATV Music Publishing LLC
Written by: Taylor Swift

Lyrics Licensed & Provided by LyricFind
To comment on specific lyrics,
highlight them