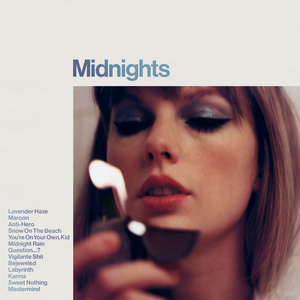 Midnights is the tenth studio album by American singer-songwriter Taylor Swift, …
Read Full Bio ↴
Midnights is the tenth studio album by American singer-songwriter Taylor Swift, released on October 21, 2022, through Republic Records. Announced at the 2022 MTV Video Music Awards, the album marks Swift's first body of new work since her ninth studio album, evermore. Swift wrote and produced Midnights with Jack Antonoff and described the album as a "journey through terrors and sweet dreams" that describes thirteen sleepless nights of her life.

Following the surprise release and negligible promotion of her previous studio albums, Swift returned to her traditional album roll-out with Midnights. She unveiled the track list through a TikTok series called 'Midnights Mayhem with Me' from September 21 to October 7, 2022. The fourth track, "Snow on the Beach", features Lana Del Rey.

Swift adopted a glamorous aesthetic for Midnights that drew from 1970s fashion. A trailer teasing several visuals for the album was released on October 20. A music video for the third track, "Anti-Hero", was premiered on October 21, 2022.

The standard edition of Midnights consists of thirteen tracks. The deluxe CD adds three bonus songs, of which two are remixes, while Midnights (3am Edition), made available exclusively on streaming platforms and for digital download, adds seven other bonus tracks. Six of the album's tracks are labeled explicit. Del Rey provides guest vocals on the fourth track, "Snow on the Beach".

Midnights was met with widespread acclaim from music critics, who praised its restrained production, candid songwriting, and vocal cadences. The album was also a major commercial success across all formats of music consumption; it broke the Spotify record for the most single-day streams for an album, and became the fastest-selling album in the United States since Swift's own reputation, finishing its first day as the best-selling album of 2022 and logging the largest vinyl sales week of the 21st century, marked Swift's 11th number-one album on the Billboard 200, and spawned 10 top-ten songs on the Hot 100 "the most for any album" in the same week. To support Midnights, Swift will embark on the Eras Tour in 2023.

Billboard called Swift's unexpected announcement of the album at the Video Music Awards a "headline-grabbing" moment. Bruce Gillmer, the show's producer, stated that Midnights gave a "massive lift" to the viewership ratings. The album's cover artwork became an internet trend, mimicked and parodied by social media users, including official accounts of brands, organizations and celebrities. Apple Fitness+ released three exercise programs designed around Swift's music, featuring tracks from Midnights, curated for yoga, treadmill and HITT workouts. Spotify's servers crashed for several minutes when the album was released.

The commercial success of Midnights across all formats was unprecedented in the streaming era. Financial Times pondered whether Swift is "the last pop superstar", underscoring the 1.5 million first-week units—a figure unseen since the "1990s boy bands" era, which was regarded as the peak for the US music business. Music publisher Matt Pincus called Swift "basically an intellectual property franchise now. Like a DC movie". Fortune compared her to the Marvel Cinematic Universe. Noting a 2021 article from The New York Times that asked "if Adele couldn't sell more than a million albums in a single week, could any artist?" after her album 30 missed the mark, Rolling Stone responded that Swift "has once again moved the goalposts regarding what the music industry can see as possible from a major pop star". Slate underscored how Swift's career has lasted longer than that of the Beatles, and broke the band's once-deemed "unbeatable" records. Business journalist Greg Jericho, in The Guardian, lauded her ability to remain culturally relevant and successful 18 years into her music career, highlighting how the Rolling Stones, Bob Dylan, David Bowie and Bruce Springsteen were past their prime at that stage.
Genre not found
Artist not found
Album not found
Search results not found
Song not found
Anti-Hero
I have this thing where I get older but just…
Bejeweled
Baby love, I think I've been a little too kind Didn't…
Karma
Karma is that girl, like (grrah) You're talkin' shit for th…
Labyrinth
"It only hurts this much right now" Was what I was…
Lavender Haze
Meet me at midnight Starin' at the ceilin' with you Oh, you…
Maroon
When the morning came we were cleaning incense off your…
Mastermind
Once upon a time, the planets and the fates And all…
Midnight Rain
Rain, he wanted it comfortable I wanted that pain He wanted …
Question...?
(I remember) Good girl, sad boy Big city, wrong choices We …
Snow on the Beach
One night, a few moons ago I saw flecks of what…
sWEEt nOTHiNg
I spy with my little tired eye Tiny as a firefly A…
Vigilante Shit
Draw the cat eye sharp enough to kill a man You…