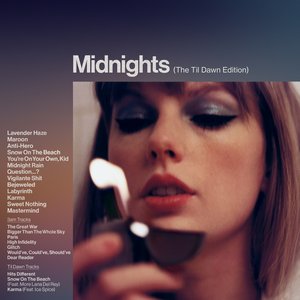 Midnights (The Til Dawn Edition)
Midnights (The Til Dawn Edition) is a digital and streaming-exclusive version of…
Read Full Bio ↴
Midnights (The Til Dawn Edition) is a digital and streaming-exclusive version of Taylor Swift's tenth studio album, Midnights. It contains 23 tracks: the 20 3am tracks, "Hits Different" (originally a Target-exclusive), a reworked version of "Snow on the Beach" with more vocals from Lana Del Rey, and the remix of "Karma" featuring Ice Spice.

This reissue was released alongside the Late Night Edition on May 26, 2022, through Republic Records.
Genre not found
Artist not found
Album not found
Search results not found
Song not found
Midnights (The Til Dawn Edition)
Taylor Swift Lyrics
Anti-Hero
I have this thing where I get older but just…
Bejeweled
Baby love, I think I've been a little too kind Didn't…
Bigger Than the Whole Sky
No words appear before me in the aftermath Salt streams out…
Dear Reader
Dear reader, if it feels like a trap You're already in…
Glitch
We were supposed to be just friends You don't live in…
High Infidelity
Lock broken, slur spoken Wound open, game token I didn't kno…
Hits Different
I washed my hands of us at the club You made…
Karma
Karma is that girl, like (grrah) You're talkin' shit for th…
Labyrinth
"It only hurts this much right now" Was what I was…
Lavender Haze
Meet me at midnight Starin' at the ceilin' with you Oh, you…
Maroon
When the morning came we were cleaning incense off your…
Mastermind
Once upon a time, the planets and the fates And all…
Midnight Rain
Rain, he wanted it comfortable I wanted that pain He wanted …
Paris
"Your ex-friend's sister Met someone at a club and he kissed…
Question...?
(I remember) Good girl, sad boy Big city, wrong choices We …
sWEEt nOTHiNg
I spy with my little tired eye Tiny as a firefly A…
The Great War
My knuckles were bruised like violets Sucker punching walls,…
Vigilante Shit
Draw the cat eye sharp enough to kill a man You…