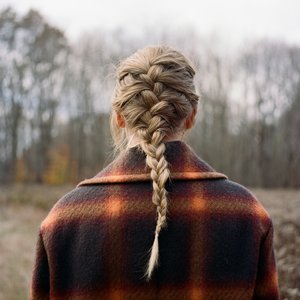 evermore is the ninth studio album by American singer-songwriter Taylor Swift. I…
Read Full Bio ↴
evermore is the ninth studio album by American singer-songwriter Taylor Swift. It was released on December 11, 2020, through Republic Records, less than five months after the singer's eighth studio album, folklore.

evermore was a spontaneous product of Swift's extended collaboration with her folklore co-producer Aaron Dessner, with whom she developed a creative chemistry and could not stop writing songs even after releasing the latter.

Swift described evermore as an offshoot of "the folklorian woods"—an escapist, cottagecore-inspired direction she first ideated with folklore during the COVID-19 pandemic; she regards them as sister albums. evermore blends alternative rock, indie folk and chamber pop styles, carried by fingerpicked guitars, somber pianos, lavish strings, and sparse percussion. Impressionist storytelling and mythopoeia dominate its lyrical technique. The subject matter has been described as an anthology of tales about love, marriage, infidelity, and grief, exploring the complexities of human emotion. American bands Bon Iver, HAIM, and The National appear as guest performers on the album.

Earning widespread acclaim from critics, evermore was praised for its character studies, experimental production, and Swift's nuanced vocals. Reviews regarded the album a sequel or a counterpart to folklore, and various publications listed it in their 2020 year-end rankings. evermore was nominated for Album of the Year at the 64th Annual Grammy Awards, a second consecutive nomination for Swift in the category after winning it with folklore the previous year. Dessner and Long Pond have achieved mainstream notability since evermore's release.

The album reached number one in Argentina, Australia, Belgium, Canada, Croatia, Greece, New Zealand, Portugal, the United Kingdom, and the United States. Republic Records reported over a million copies of the album sold in its first week globally. It was Swift's eighth consecutive Billboard 200 number-one debut, spending four weeks atop the chart, and achieved various chart feats in Australia, the UK and the US; in the latter, the tracks "willow", "no body, no crime", and "coney island" impacted pop, country, and alternative radio stations, respectively. "willow" became Swift's seventh Billboard Hot 100 number-one song and her second in 2020 after "cardigan", making her the first ever act to simultaneously debut atop both Billboard 200 and Hot 100 charts two times. evermore was 2021´s best-selling alternative music album and Americana album in the US and the UK, respectively.
Genre not found
Artist not found
Album not found
Search results not found
Song not found
'tis the damn season
If I wanted to know Who you were hanging with While I…
champagne problems
You booked the night train for a reason So you could…
closure
It's been a long time And seeing the shape of your…
coney island
Break my soul in two Looking for you but you're right…
cowboy like me
And the tennis court was covered up With some tent-like thin…
dorothea
Hey Dorothea Do you ever stop and think about me? When we…
evermore
Gray November I've been down since July Motion capture Put m…
gold rush
Gleaming Twinkling Eyes like sinking ships On waters so invi…
happiness
Honey, when I'm above the trees I see this for what…
ivy
How's one to know? I'd meet you where the spirit meets…
long story short
Fatefully I tried to pick my battles 'Til the battle picked …
marjorie
Never be so kind, you forget to be clever Never be…
tolerate it
I sit and watch you reading with your Head low I wake…
willow
I'm like the water when your ship rolled in that…