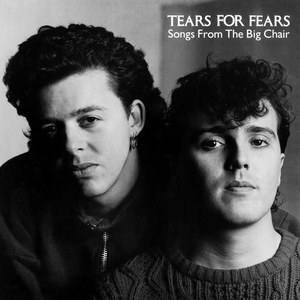 Songs from the Big Chair is the second studio album by the British rock/pop band Tears for Fears, released on 25 February 1985 by Phonogram Records. The album peaked at number two in the UK and number one in the US and Canada. It spawned the international hit singles "Mothers Talk", "Shout", "Everybody Wants to Rule the World", "Head over Heels", and "I Believe". It remains their best-selling album to date. Curt Smith explains the album's title, March 1985: "The title was my idea. It's a bit perverse but then you've got to understand our sense of humour. The 'Big
Read Full Bio
Songs from the Big Chair is the second studio album by the British rock/pop band Tears for Fears, released on 25 February 1985 by Phonogram Records. The album peaked at number two in the UK and number one in the US and Canada. It spawned the international hit singles "Mothers Talk", "Shout", "Everybody Wants to Rule the World", "Head over Heels", and "I Believe". It remains their best-selling album to date.

Curt Smith explains the album's title, March 1985:
"The title was my idea. It's a bit perverse but then you've got to understand our sense of humour. The 'Big Chair' idea is from this brilliant film called Sybil about a girl with 16 different personalities. She'd been tortured incredibly by her mother as a child and the only place she felt safe, the only time she could really be herself was when she was sitting in her analyst's chair. She felt safe, comfortable and wasn't using her different faces as a defence. It's kind of an 'up yours' to the English music press who really fucked us up for a while. This is us now – and they can't get at us anymore."

The album title was derived from the 1976 television film Sybil about a woman with multiple personality disorder who only feels safe when she is sitting in her analyst's "big chair". A mostly-instrumental track called "The Big Chair" (which includes dialogue samples from the film) was released as the B-side of "Shout" in 1984, but was not included on the album.

The album peaked at no.2 in the UK Albums Chart and remained in the Top 10 for over six months. In the US, it reached number one for five weeks (non-consecutive), and in Canada it reached number one for nine weeks (non-consecutive) and spent six months in the Top 3. In all three countries, the album went multi-platinum. It also reached number one in Germany and The Netherlands and Top 10 positions in various other countries including Australia, Switzerland, New Zealand, and Italy.

A companion video documentary entitled Scenes from the Big Chair was released in late 1985. Once the band had finished a lengthy touring and promotion schedule for the album, they took an extended hiatus from the music industry. In 1989, their third album, The Seeds of Love, marked their return.

In his review of Songs from the Big Chair, Barry McIlheney of Melody Maker stated that "none of you should really be too surprised that Tears for Fears have made such an excellent album", calling it "an album that fully justifies the rather sneering, told-you-so looks adopted by Curt Smith and Roland Orzabal on the sleeve", before concluding, "An awful lot of people will, of course, go on and on about overcoats, The Lotus Eaters and an alleged lack of depth. And an awful lot of people will have to eat an awful lot of words." Ian Cranna of Smash Hits described it as "looser, more exploratory than before" in nature, and noted its "unflinching lyrical honesty". Rolling Stone critic Don Shewey wrote that Tears for Fears "sounds a lot like a lot of other British bands" and observed traces of "U2's social conscience, the Bunnymen's echoing guitars and XTC's contorted pop wit" on the album, but commented that Chris Hughes' production "nudges Songs from the Big Chair slightly ahead of the pack." Robert Christgau was less enthusiastic in his review for The Village Voice, observing some substantial lyrics, particularly on "The Working Hour", and musical elements such as an "uncommon command of guitar and piano, Baker Street sax, synthesizers more jagged than is deemed mete by the arbiters of dance-pop accessibility". However, he felt these are all beneath grandiloquent lamentations suggesting "a depth and drama English lads have been falling short on since the dawn of progressive rock."

In a retrospective review published on AllMusic, Stanton Swihart wrote: "In the loping, percolating 'Everybody Wants to Rule the World', Tears for Fears perfectly captured the zeitgeist of the mid-'80s while impossibly managing to also create a dreamy, timeless pop classic. Songs from the Big Chair is one of the finest statements of the decade." Mark Elliott of Record Collector agreed, while adding that it contained the band's "most consistently interesting material". Q remarked that the album "zeroed in on every angsty adolescent's desire to feel heroic, with a sound of spotlit, spacious sophistication plus anthemic choruses you'd bet your house on." In Stylus Magazine, Andrew Unterberger concluded that "even today, when all rock musicians seem to be able to do is be emotional and honest, the brutality and power of Songs from the Big Chair's catharsis is still quite shocking." Songs from the Big Chair has been included in the book 1001 Albums You Must Hear Before You Die. Slant Magazine listed the album at number 95 on its list of the best albums of the 1980s.

In 1998, MFSL remastered and re-issued the album with an extended "Head over Heels" (running 5:24) and two bonus tracks (extended mixes of "Shout" and "Everybody Wants to Rule the World").

The album was remastered and re-issued on CD in 1999 with bonus tracks, including B-sides and remixes. The track listing is based on the Special Edition cassette version of the album, which featured five B-sides as bonus tracks—including three tracks ("The Conflict", "The Marauders" and "Broken Revisited") from The Hurting period. In addition to these tracks, it includes two remixes.

The album was re-released again in a deluxe edition 2-disc format in 2006 with the full collection of B-sides and many alternate versions and remixes of the album's tracks.

In 2014, the album was released by Universal Music Japan on SHM-SACD.

To mark the album's 30th anniversary, Universal Music released the album in five different formats on 10 November 2014, including a 6-disc Super Deluxe Edition which includes four CDs and two DVDs (1 audio, 1 video). This edition also includes a 30-page replica 1985 tour programme and a 32-page booklet. Additional formats released simultaneously include another 2-disc Deluxe Edition, a single disc remastered edition, a 180-gram heavyweight vinyl album, and a "Pure Audio" Blu-Ray edition. The 5.1 surround sound mix is done by renowned remixer and progressive rock musician Steven Wilson.
Genre not found
Artist not found
Album not found
Search results not found
Song not found
Shout
Shout
Let it all out
These are the things I can do without
Come on
I'm talking to you
Come on
Shout
Shout
Let it all out
These are the things I can do without
Come on
I'm talking to you
Come on
In violent times
You shouldn't have to sell your soul
In black and white
They really really ought to know
Those one-track minds
That took you for a working boy
Kiss them goodbye
You shouldn't have to jump for joy
You shouldn't have to jump for joy
Shout
Shout
Let it all out
These are the things I can do without
Come on
I'm talking to you
Come on
They gave you life
And in return you gave them hell
As cold as ice
I hope we live to tell the tale
I hope we live to tell the tale
Shout
Shout
Let it all out
These are the things I can do without
Come on
I'm talking to you
Come on
Shout
Shout
Let it all out
These are the things I can do without
Come on
I'm talking to you
Come on
Shout
Shout
Let it all out
These are the things I can do without
Come on
I'm talking to you
Come on
And when you've taken down your guard
If I could change your mind
I'd really love to break your heart
I'd really love to break your heart
Shout
Shout
Let it all out
These are the things I can do without (break your heart)
Come on (really love to break your heart)
I'm talking to you
Come on
Shout
Shout
Let it all out
These are the things I can do without
Come on
I'm talking to you
So come on
Shout
Shout
Let it all out
These are the things I can do without
Come on
I'm talking to you
Come on
Shout
Shout
Let it all out
These are the things I can do without
Come on
I'm talking to you (they really really ought to know)
Come on
Shout
Shout
Let it all out (I'd really love to break your heart)
These are the things I can do without
(I'd really love to break your heart)
Come on
I'm talking to you
So come on
Shout
Shout
Let it all out
These are the things I can do without
Come on
I'm talking to you
Lyrics © BMG Rights Management, Sony/ATV Music Publishing LLC
Written by: Ian Stanley, Roland Orzabal

Lyrics Licensed & Provided by LyricFind
To comment on specific lyrics,
highlight them