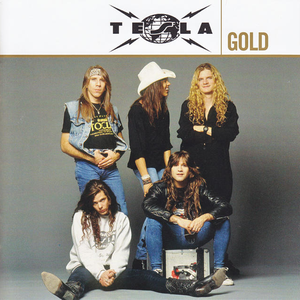 Tesla is an American hard rock band originating from Sacramento, California. The band formed in 1984 as City Kidd and was renamed to Tesla during the recording of their first album on the advice of their manager. According to the Love Song Songfacts, their name (and the inspiration for some songs) comes from Nikola Tesla, the legendary scientist and inventor who quite possibly is single-handedly responsible for the "mad scientist" trope. Originally
Read Full Bio
Tesla is an American hard rock band originating from Sacramento, California. The band formed in 1984 as City Kidd and was renamed to Tesla during the recording of their first album on the advice of their manager. According to the Love Song Songfacts, their name (and the inspiration for some songs) comes from Nikola Tesla, the legendary scientist and inventor who quite possibly is single-handedly responsible for the "mad scientist" trope. Originally, the group included Jeff Keith (vocals), Frank Hannon (guitar), Tommy Skeoch (guitar), Brian Wheat (bass) and Troy Luccketta (drums). In 2006, Skeoch was replaced by Dave Rude, who is now an official member of the band.

Tesla's music fit well with the blasting sounds of their 80s hair metal and glam rock contemporaries. Yet it was more bluesy and lyrics dealt with other themes than just the usual, girls, alcohol and violence. But what set them even more apart from their contemporaries was their t-shirt and jeans image, a 'street' look reminiscent of the Ramones (and other 70s punk groups) that was in strong contrast of the leather, spandex, and flashy-make type look of the time.

The band's early lifespan as City Kidd brought them considerable frustration, with them failing to break into the musical mainstream while also competing with another band with the same name. Their mutation into Tesla provided a clear shot at success. 'Mechanical Resonance', their debut that the boys released in 1986, became a commercial smash while also receiving significant critical praise. That album was certified platinum by the RIAA on October 5, 1989.

In total, the group has released six studio albums with original music, the latest of them being 2008's 'Forever More'. They have also created a a double-disc covers album, titled 'Real To Reel', as well as a number of compilations and live albums. Their sound has focused on a particularly melodic and accessible kind of hard rock with strong shades of classic heavy metal as well.

Tesla's popular 1990 remake of Signs, originally recorded by the Five Man Electrical Band (who also inspired the album which the remake came from, Five Man Acoustical Jam), is probably the most mainstream of Tesla's hits. However, many fans remember fondly Tesla's other hits such as Gettin' Better, Modern Day Cowboy, Little Suzi, Edison's Medicine and Love Song.

The band derived their name, certain album and song names (e.g. The Great Radio Controversy, Mechanical Resonance, etc), and some song content from events relating to Nikola Tesla, a Serbian-American inventor and electrical engineer born in the 19th century in Smiljan, Austria-Hungary, modern day Croatia.
Genre not found
Artist not found
Album not found
Search results not found
Song not found
Cumin' Atcha Live
Tesla Lyrics
Alright!
Hey, are we ready?
Well I'm a mean machine, I'm the kind you don't want to meet
My middle name is trouble, I'm a danger in the street
My motor's in overdrive, my pedal's to the floor
I never get enough, I'm always comin' back for more
Here I come, better step aside
I said here I come, oh yeah, well I'm a-comin' at you live
I'm comin' atcha live
The only one you want, I never give a warning twice
Well anything could happen like the rollin' of the dice
Here we come, you better step aside
I said here we come, we're comin' at you live
Comin' at you live, we're comin' atcha live
Comin' at you live, comin' atcha live
Comin' at you live, you better step aside
Comin' at you live, ow! ow!
Comin' at you live, we're comin' atcha live
Comin' at you live, comin' atcha live
Comin' at you live, you better step aside
Comin' at you live, comin' atcha live
Comin' at you live, comin' atcha live
Comin' at you live, comin' atcha live
Comin' at you live, step aside, step aside
Comin' at you live, cause here we come
Truckin', I'm a-goin' home, whoa whoa, baby, back where I belong
Back home, sit down and patch my bones, and get back truckin' on
What in the hell ever happened to sweet Jane?
She's lost her marbles, you know the chick ain't the same
Livin' on reds, and vitamin see, and cocaine
All the friend can say is "ain't it a bitch"
Busted down on Bourbon Street, set up like a bowlin' pin
Knocked down, sometimes I'm wearin' thin, th
Lyrics © Warner/Chappell Music, Inc.
Written by: ALAN JAY LERNER, KURT WEILL

Lyrics Licensed & Provided by LyricFind
To comment on specific lyrics,
highlight them