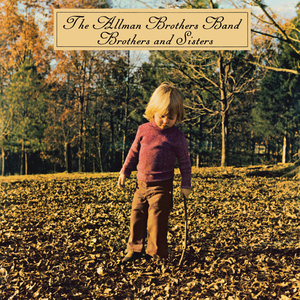 Brothers and Sisters is a 1973 album by The Allman Brothers Band. The group's first album recorded completely after the death of leader Duane Allman, and mostly after the death of bassist Berry Oakley, Brothers and Sisters saw the Allmans reach a commercial peak. The album went to #1 on the U.S. albums chart, and moreover contained their only hit single, Dickey Betts' country-tinged "Ramblin' Man", which climbed to #2 on the U.S. singles chart. Betts, billed as Richard on this album, came to the forefront by also writing the album's other most prominent tracks, the buoyant instrumental "Jessica", the
Read Full Bio
Brothers and Sisters is a 1973 album by The Allman Brothers Band.

The group's first album recorded completely after the death of leader Duane Allman, and mostly after the death of bassist Berry Oakley, Brothers and Sisters saw the Allmans reach a commercial peak. The album went to #1 on the U.S. albums chart, and moreover contained their only hit single, Dickey Betts' country-tinged "Ramblin' Man", which climbed to #2 on the U.S. singles chart. Betts, billed as Richard on this album, came to the forefront by also writing the album's other most prominent tracks, the buoyant instrumental "Jessica", the FM radio-friendly "Southbound" (sung by Gregg Allman), and the country blues hybrid "Pony Boy". The group's sound was also somewhat different, with new pianist Chuck Leavell acting as the other lead instrument instead of the band's former trademark dual lead guitars.

The album's inner gatefold cover art featured a large photograph of the extended Allmans family — band members, roadies, wives, girlfriends, children, dogs, all in a seemingly idyllic, long-haired, multi-racial Southern setting — a setting that would be rent asunder by internal frictions and outside developments over the next few years.
Genre not found
Artist not found
Album not found
Search results not found
Song not found
Can you tell me, tell me, friend, just exactly where I've been?
Is that so much to ask I'll pay you back no matter what the task
You seem really sure 'bout something I don't know,
Take that load off, looks like chest's about to go
Your wasted words already been heard, are you really god, yes or no?
Well, all day and half the night you're walkin' round lookin' such a fright
Good is it me or is it you?
I'd make a wager and I'd hope you lose
Time's gone, looks like Rome is 'bout to fall,
Next time take the elevator, please don't crawl
Your wasted words so absurd, are you really Satan, yes or no?
Tell me now baby?
Ooh hoo
Oh
Well, I ain't no saint and you sure as hell ain't no savior
Every other Christmas I would practice good behavior
That was then, this is now, don't ask me to be mister clean
Baby, I don't know how
Ring my phone 'bout ten more times, we will see,
Find that broke down line and let it be
Your wasted words will never be heard, go on home baby and watch it on TV
Weekday soap-box specialty, you know what I'm talkin' 'bout now
By the way, this song's for you, sincerely, me
Lyrics © Sony/ATV Music Publishing LLC, Kobalt Music Publishing Ltd., Warner Chappell Music, Inc.
Written by: GREGG L. ALLMAN

Lyrics Licensed & Provided by LyricFind
To comment on specific lyrics,
highlight them