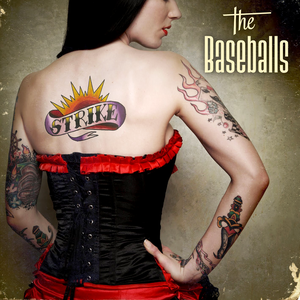 Strike! is a debut album released by The Baseballs, a German rock 'n' roll cover band, in 2009.

Their debut album Strike! was released in May 2009 in Germany, Switzerland and Austria and in October 2009 in Finland. It reached #6 in Germany, #2 in the Swiss and #1 in the Finnish album charts.] In Finland Strike! was the most sold foreign album of 2009 with sales of 73,626 units (triple platinum).

The album comes in April a new version, which includes for example the song "Last In Line". The song is by the original Nylon Beat from Finland.
Genre not found
Artist not found
Album not found
Search results not found
Song not found
You had my heart and we'll never be worlds apart
Oh, maybe in magazines
But you'll still be my star
Baby, 'cause in the dark
You can't see shiny cars
And that's when you need me there
With you I'll always share
Because
When the sun shines, we'll shine together
Told you I'll be here forever
That I'll always be your friend
Took an oath I'm a stick it out 'till the end
Now that it's raining more than ever
Know that we'll still have each other
You can stand under my umbrella
You can stand under my umbrella
You can stand under my umbrella
Hey, hey, hey, hey
These fancy things will never come in between
You're part of my entity
Here for infinity
When the war has took it's part
When the world has dealt it's cards
If the hand is hard
Together we'll mend your heart
Because
When the sun shines, we'll shine together
Told you I'll be here forever
That I'll always be your friend
Took an oath I'm a stick it out 'till the end
Now that it's raining more than ever
Know that we'll still have each other
You can stand under my umbrella
You can stand under my umbrella
You can stand under my umbrella
Hey, hey, hey, hey, hey
You can run into my arms
It's okay, don't be alarmed, come into me
There's no distance in between our love
So gonna let the rain pour
I'll be all you need and more
You can stand, you can stand
You can stand, you can stand, you can, you can, stand stand
When the sun shines, we'll shine together
Told you I'll be here forever
That I'll always be your friend
Took an oath I'm a stick it out 'till the end
Now that it's raining more than ever
Know that we'll still have each other
You can stand under my own umbrella
You can stand under my own umbrella
You can stand under my own umbrella
Hey, hey, hey, hey, hey
When the sun shines, we'll shine together
Told you I'll be here forever
That I'll always be your friend
Took an oath I'm a stick it out 'till the end
Now that it's raining more than ever
Know that we'll still have each other
You can stand under my umbrella
You can stand under my umbrella
You can stand, you can stand, you can stand
You can stand, you can stand, you can stand
You can stand, you can stand, you can stand
Oh, oh, oh, oh (Oh you can stand)
You can stand, you can stand, you can stand (Oh you can stand)
You can stand, you can stand, you can stand (Oh you can stand)
You can stand, you can stand, you can stand
Under my umbrella
You can stand, you can stand, you can stand
Umbrella
Lyrics © Peermusic Publishing, Sony/ATV Music Publishing LLC, Warner/Chappell Music, Inc.
Written by: Christopher A. Stewart, Shawn C. Carter, Terius Youngdell Nash, Thaddis Laphonia Harrell

Lyrics Licensed & Provided by LyricFind
To comment on specific lyrics,
highlight them