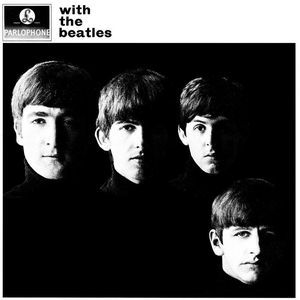 With The Beatles is the second studio album by the English rock group The Beatle…
Read Full Bio ↴
With The Beatles is the second studio album by the English rock group The Beatles. It was released on 22 November 1963 on Parlophone, and was recorded four months after the band's debut Please Please Me. The album features eight original compositions (seven by Lennon–McCartney and "Don't Bother Me", George Harrison's first recorded solo composition and his first released on a Beatles album) and six covers (mostly of Motown and R&B hits). Most of the songs from the album were released in the United States by Capitol Records as the Meet The Beatles! LP on 20 January 1964, and the remaining that were not, featured on their next US album, The Beatles' Second Album.

The album was also released in November 1963 by Capitol Records in Canada, with a slight change to the title Beatlemania! With The Beatles. This release has the distinction of being the first LP of Beatles material released in North America, pre-dating the Capitol US Meet The Beatles! and the Vee Jay Records Introducing... The Beatles LPs by two months.

The LP had advance orders of a half million and sold another half million by September 1965, making it the second album to sell a million copies in the UK, after the soundtrack to the 1958 film South Pacific. With The Beatles stayed at the top of the charts for 21 weeks, displacing Please Please Me, so that The Beatles occupied the top spot for 51 consecutive weeks. It even reached number 11 in the "singles charts" (because at the time UK charts counted all records sold, regardless of format). EMI Australia did not receive the cover art, and used a caricature of the band in a similar style to the black-and-white photograph on other releases. The Beatles were unaware of this until fans showed them the cover during their only Australian tour, and informed the EMI publicity staff that they were not pleased with the substitution.

On 26 February 1987, With The Beatles was officially released on compact disc (in mono only, catalogue number CDP 7 46436 2). Having been available only as an import in the US in the past, the album was also issued domestically in the US on LP and cassette on 21 July 1987. Along with the rest of the Beatles' canon, it was re-released on CD in newly re-mastered stereo and mono versions on 9 September 2009.
In 2003, the album was ranked number 420 on Rolling Stone magazine's list of the 500 greatest albums of all time.
Genre not found
Artist not found
Album not found
Search results not found
Song not found
With The Beatles
The Beatles Lyrics
All I've Got to Do
Whenever I want you around, yeah All I gotta do Is call…
All My Loving
Close your eyes and I'll kiss you Tomorrow I'll miss you Rem…
devil in her heart
She's got the devil in her heart But her eyes they…
Don't Bother Me
Since she's been gone I want no one to talk…
Hold Me Tight
It feels so right now, hold me tight Tell me I'm…
I Wanna Be Your Man
I wanna be your lover, baby I wanna be your man I…
It Won't Be Long
It won't be long yeah (yeah), yeah (yeah), yeah (yeah) It…
Little Child
Little child, little child Little child, won't you dance wit…
Money (That's What I Want)
The best things in life are free But you can keep…
Not a Second Time
You know you made me cry I see no use in…
Please Mister Postman
Wait, oh yes, wait a minute, Mister Postman Wait, wai-ai-ai-…
Roll Over Beethoven
Well gonna write a little letter Gonna mail it to my…
Till There Was You
There were bells on a hill But I never heard them…
You Really Got a Hold on Me
I don't like you But I love you Seems that I'm always Thinki…