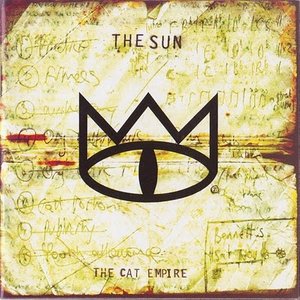 The Sun was The Cat Empire's first studio recorded 'EP'. It was recorded at Adelphia Studios in June/July 2002, and mixed by "the carpenter of music, Angelo Andrianakis". The album wasn't ever released for retail sale, with a rumoured 1200 copies being independently produced and sold (mainly) on their 2002 US tour, but also at some shows in Australia. As such, very few authentic copies of the album are available. The artwork was quite 'rare' to actually find on the internet up until recently (with many websites using a fan-made picture of The Cat Empire logo emblazened on a picture
Read Full Bio
The Sun was The Cat Empire's first studio recorded 'EP'. It was recorded at Adelphia Studios in June/July 2002, and mixed by "the carpenter of music, Angelo Andrianakis". The album wasn't ever released for retail sale, with a rumoured 1200 copies being independently produced and sold (mainly) on their 2002 US tour, but also at some shows in Australia. As such, very few authentic copies of the album are available.

The artwork was quite 'rare' to actually find on the internet up until recently (with many websites using a fan-made picture of The Cat Empire logo emblazened on a picture of the sun).

Some of the albums' tracks are found on other recordings:
- The Chariot and Two Shoes appear in their original form (albiet with different bits added in the middle and at the end, respectively) on 2003 release, Tapes, breaks and out-takes.
- Rhyme and Reason appears as a bonus track on the iTunes version of So Many Nights (with the label (Demo) added after the track name)
- The Sun appears on various recordings - Live @ Adelphia, On the Attack and the newly released Fishies digital single.

Most, if not all of the songs have been re-recorded onto different albums:
- The Mother Place and Rhyme and Reason were re-recorded at Sing Sing Studios in January, 2005, ready for release on The Car Song and Two Shoes singles (respectively)
- The Rhythm, The Chariot, The Crowd and Hello were all re-recorded for the debut album released in 2003
- Two Shoes and The Night That Never Ends were re-recorded for 2005 release, Two Shoes (with the latter track dropping the 's' off the word 'ends')
- Wanted to Write a Love Song has been re-recorded for Tapes, breaks and out-takes, and subsequently used as a b-side on 2003 single release, Days Like These
- Song for the Day was re-recorded for 2006 release, Cities (note: the version of Tapes, breaks... was recorded BEFORE the version on The Sun and Live @ Adelphia - it is a trio recording).

The track listing is as follows:
1. The Mother Place - 3:19 - F Riebl
2. The Rhythm - 4:18 - F Riebl
3. Rhyme and Reason - 5:14 - F Riebl
4. The Chariot - 5:27 - F Riebl
5. The Crowd - 5:27 - H Angus (contains a quotation from a poem by Ezra Pound)
6. Two Shoes - 5:31 - F Riebl
7. Wanted to Write a Love Song - 6:49 - F Riebl
8. Song for the Day - 4:48 - F Riebl
9. The Night That Never Ends - 4:38 - F Riebl
10. Hello - 5:07 - F Riebl (not credited in the booklet as there is actually no page for Hello)
11. The Sun - 6:55 - F Riebl
Genre not found
Artist not found
Album not found
Search results not found
Song not found
Up up and down from the country to the town
From the streets to the city from the sky to the ground
in the alleyways
When the mad noise sound we be looking
But still we haven't found what we're looking for
For all of our days. Searching out prophets
In this great big haze
Of consumers, banks and commercial shit
and most of the people they sit
When think this is living a part of their lives
But if this is living then our lives are in strife
But now we be searching, searching for some space
That's right we be in the search for the mother place.
And when we get there by land or by sea
By climbing up a mountain or swinging through some trees
On arrival we'll get a sense of the place
And we'll feel it in the air and the smiles on our face will grow
When the living does begin
When the banks they are burning
And the mobiles don't ring no more
Radiation will cease
We'll be lying outside
Drinking brews in the heat
And at this destination we'll be doing what we want
And not because it's fashion but because it's our response
And we'll write and we'll read and we'll work and feed
And won't need nothing from society 'cause i'm free
And if you want we could write a post
However those with the noise find that it's far
Better to search for a better living
Better to be alive than waiting for an ending
and some might say
That place don't exist
It's something that you're dreaming
It's something that you wish
Reply is simple
we'll say it to begin with
If we don't find a place
Then we'll make it right here
Cause we're rhyming for a reason
We plan 'cause we can
And we we didn't ask for permission
And we enter with a bang
And the empire saying
Everyone should have a face
That's why we be in the search
For the mother place.
Contributed by Charlie M. Suggest a correction in the comments below.
To comment on specific lyrics,
highlight them