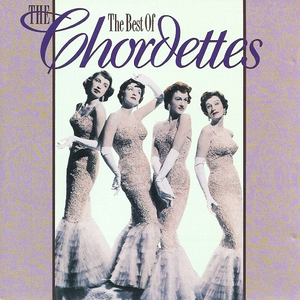 The Best of The Chordettes
The Chordettes were a female popular singing quartet, usually singing a cappella, and specializing in traditional pop music.

They were first organized in Sheboygan, Wisconsin in 1946. The original members of the group were Janet Ertel (1913-November 4, 1988), Carol Bushman (her sister-in-law), Dorothy Schwartz, and Jinny Osborn (or Lockard) (April 25, 1927-May 19, 2003). In 1952, Lynn Evans replaced Schwartz, and in 1953, Margie Needham replaced Osborn (who was having a baby), though Osborn later returned to the group.
Read Full Bio
The Chordettes were a female popular singing quartet, usually singing a cappella, and specializing in traditional pop music.

They were first organized in Sheboygan, Wisconsin in 1946. The original members of the group were Janet Ertel (1913-November 4, 1988), Carol Bushman (her sister-in-law), Dorothy Schwartz, and Jinny Osborn (or Lockard) (April 25, 1927-May 19, 2003). In 1952, Lynn Evans replaced Schwartz, and in 1953, Margie Needham replaced Osborn (who was having a baby), though Osborn later returned to the group. Nancy Overton also was a member of the group at a later time. Originally they sang folk music in the style of The Weavers, but eventually changed to a harmonizing style of the type known as barbershop harmony. Part of this change seems to be influenced by Osborn's father.

Jinny Osborn was born in Seattle, Washington. She was born Virginia Cole, the daughter of O. H. "King" Cole, who was president of the Barbershop Harmony Society (then known as SPEBSQSA), and Katherine Flack.

After performing locally in Sheboygan, they went on Arthur Godfrey's radio program, Talent Scouts in 1949.They went on to feature status on Godfrey's daily program, and then went on to make a number of recordings for Columbia Records.

In 1953, Godfrey's music director and orchestra leader, Archie Bleyer, founded Cadence Records. He signed a number of Godfrey regulars and former regulars, including the Chordettes, who had a number of hit records for Cadence.

Their biggest hit was Mr. Sandman in 1954. Archie Bleyer himself is on that record along with the group, Bleyer stripping the sound down the better not to clutter the girls' voices. They also hit the top twenty with 1958's "Lollipop," and also charted with a vocal version of the themes from television's Zorro (1959) and the film Never on Sunday (1961). Other hits for the girls included "Eddie My Love," "Born to Be With You," and "Lay Down Your Arms" in 1956 and "Just Between You and Me" in 1957.

Janet Ertel married Bleyer in 1954. Her daughter Jackie married another Cadence recording star, Phil Everly of The Everly Brothers. She died of cancer in 1988.

The Chordettes appeared on American Bandstand August 5, 1957, kicking off the first episode of the show over the ABC Television Network.

In 1961, Jinny Osborn left the group, and they were unable to find a replacement with whom they were happy, leading to a breakup.

The group was inducted into the Vocal Group Hall of Fame in 2001.

Jinny Osborn (by that time Jinny Janis) died in 2003
Genre not found
Artist not found
Album not found
Search results not found
Song not found
(Bung, bung, bung, bung, bung, bung, bung)
(Bung, bung, bung, bung, bung, bung, bung)
(Bung, bung, bung, bung, bung, bung, bung)
(Bung, bung, bung, bung, bung, bung)
Mr. Sandman, bring me a dream (bung, bung, bung, bung)
Make him the cutest that I've ever seen (bung, bung, bung, bung)
Give him two lips like roses and clover (bung, bung, bung, bung)
Then tell him that his lonesome nights are over
Sandman, I'm so alone (bung, bung, bung, bung)
Don't have nobody to call my own (bung, bung, bung, bung)
Please turn on your magic beam
Mr. Sandman, bring me a dream
(Bung, bung, bung, bung, bung, bung, bung)
(Bung, bung, bung, bung, bung, bung, bung)
(Bung, bung, bung, bung, bung, bung, bung)
(Bung, bung, bung, bung, bung, bung, bung)
Mr. Sandman, bring me a dream
Make him the cutest that I've ever seen
Give him the word that I'm not a rover
Then tell him that his lonesome nights are over
Sandman, I'm so alone
Don't have nobody to call my own
Please turn on your magic beam
Mr. Sandman, bring me a dream
(Bung, bung, bung, bung, bung, bung, bung)
(Bung, bung, bung, bung, bung, bung, bung)
(Bung, bung, bung, bung, bung, bung, bung)
(Bung, bung, bung, bung, bung, bung)
Mr. Sandman (yes) bring us a dream
Give him a pair of eyes with a "come-hither" gleam
Give him a lonely heart like Pagliacci
And lots of wavy hair like Liberace
Mr. Sandman, someone to hold (someone to hold)
Would be so peachy before we're too old
So please turn on your magic beam
Mr. Sandman, bring us, please, please, please
Mr. Sandman, bring us a dream
(Bung, bung, bung, bung, bung, bung, bung)
(Bung, bung, bung, bung, bung, bung)
Lyrics © Universal Music Publishing Group, Sony/ATV Music Publishing LLC, Warner Chappell Music, Inc.
Written by: Pat Ballard

Lyrics Licensed & Provided by LyricFind
To comment on specific lyrics,
highlight them