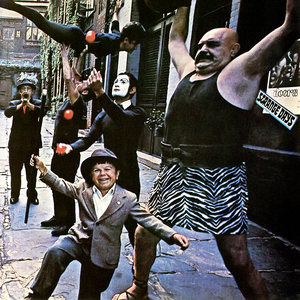 Strange Days is the second album released by American rock band The Doors. The album was a huge commercial success, earning a gold record and reaching No. 3 on the Billboard Hot 200. Despite this, its producer, Paul Rothchild, considered it a commercial failure, even if it was an artistic triumph: "We all thought it was the best album. Significantly, it was also the one with the weakest sales. We were confident it was going to be bigger than anything The Beatles had done. But, there was no single. The record died on us." Nonetheless, the album managed two Top
Read Full Bio
Strange Days is the second album released by American rock band The Doors. The album was a huge commercial success, earning a gold record and reaching No. 3 on the Billboard Hot 200. Despite this, its producer, Paul Rothchild, considered it a commercial failure, even if it was an artistic triumph: "We all thought it was the best album. Significantly, it was also the one with the weakest sales. We were confident it was going to be bigger than anything The Beatles had done. But, there was no single. The record died on us." Nonetheless, the album managed two Top 30 hits, a Top 3 placing on the US charts, and a platinum certification. Furthermore, the album certainly did nothing to derail the overall success of the Doors, as demonstrated the next year by their chart-topping follow-up Waiting for the Sun.

"Strange Days" partially consists of songs that did not make it onto their debut album, such as "Moonlight Drive", which was one of the first songs written by Jim Morrison for The Doors. The song was recorded in 1965 (demo) and 1966 (intended for their first album). In 1967 a final version was recorded and released on this album. Strange Days contains some of The Doors' most psychedelic songs. It includes songs such as "Strange Days", "People Are Strange", "Love Me Two Times" and "When the Music's Over". The latter is an epic poem that is comparable to the famous "The End".

The album was #3 in the US in 1967, and is #407 on Rolling Stone's 500 Greatest Albums of All Time. "People Are Strange" shot to #12 on the US chart, and "Love Me Two Times" followed it, going to #25, thus proving The Doors' staying power after the runaway success of their debut.
Genre not found
Artist not found
Album not found
Search results not found
Song not found
Strange Days
The Doors Lyrics
Strange days have found us
Strange days have tracked us down
They're going to destroy
Our casual joys
We shall go on playing or find a new town
Yeah!
Strange eyes fill strange rooms
Voices will signal their tired end
The hostess is grinning
Her guests sleep from sinning
Hear me talk of sin
And you know this is it
Yeah!
Strange days have found us
And through their strange hours
We linger alone
Bodies confused
Memories misused
As we run from the day
To a strange night of stone
Lyrics © Wixen Music Publishing, Sony/ATV Music Publishing LLC, O/B/O CAPASSO, Warner Chappell Music, Inc.
Written by: Jim Morrison, John Paul Densmore, Raymond D Manzarek, Robert A Krieger

Lyrics Licensed & Provided by LyricFind
To comment on specific lyrics,
highlight them