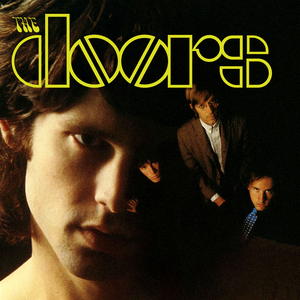 The Doors is the self-titled debut album by the band The Doors, recorded in 1966 and released in 1967. It features the breakthrough single "Light My Fire", extended with a substantial instrumental section omitted on the single release, and the lengthy song "The End" with its Oedipal spoken-word section. The Doors credit the success of their first album to being able to work the songs out night after night at the Whisky a Go Go or the London Fog. "Alabama Song" was originally written and composed by Bertolt Brecht and Kurt Weill for their opera Aufstieg und Fall der Stadt
Read Full Bio
The Doors is the self-titled debut album by the band The Doors, recorded in 1966 and released in 1967. It features the breakthrough single "Light My Fire", extended with a substantial instrumental section omitted on the single release, and the lengthy song "The End" with its Oedipal spoken-word section. The Doors credit the success of their first album to being able to work the songs out night after night at the Whisky a Go Go or the London Fog. "Alabama Song" was originally written and composed by Bertolt Brecht and Kurt Weill for their opera Aufstieg und Fall der Stadt Mahagonny (Rise and Fall of the City of Mahagonny); "Back Door Man" was a Howlin' Wolf cover. "The End"'s Oedipal climax was first performed live at the Whisky A Go Go and The Doors were thrown out as a result of lead vocalist Jim Morrison screaming "Mother...I want to fuck you!" near the climax of the song.
Genre not found
Artist not found
Album not found
Search results not found
Song not found
Break on Through
The Doors Lyrics
You know the day destroys the night
Night divides the day
Tried to run
Tried to hide
Break on through to the other side
Break on through to the other side
Break on through to the other side, yeah
We chased our pleasures here
Dug our treasures there
But can you still recall
The time we cried?
Break on through to the other side
Break on through to the other side
Yeah
Come on, yeah
Everybody loves my baby
Everybody loves my baby
She get
She get
She get
She get high
I found an island in your arms
Country in your eyes
Arms that chain us
Eyes that lie
Break on through to the other side
Break on through to the other side
Break on through, oww
Oh, yeah
Made the scene
Week to week
Day to day
Hour to hour
The gate is straight
Deep and wide
Break on through to the other side
Break on through to the other side
Break on through
Break on through
Break on through
Break on through
Yeah, yeah, yeah, yeah
Yeah, yeah, yeah, yeah, yeah
Lyrics © Wixen Music Publishing, Songtrust Ave
Written by: John Densmore, Raymond Manzarek, Robert Krieger, James Morrison

Lyrics Licensed & Provided by LyricFind
To comment on specific lyrics,
highlight them