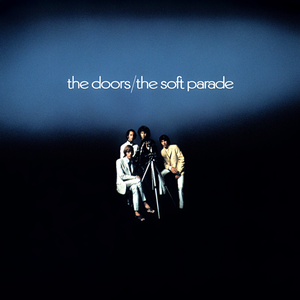 The Soft Parade is the fourth studio album by the The Doors, released in 1969. T…
Read Full Bio ↴
The Soft Parade is the fourth studio album by the The Doors, released in 1969.

The album met with some controversy among fans and critics due to its inclusion of brass and string instrument arrangements, as opposed to the more stripped-down sound of their earlier recordings. Fans also complained that The Soft Parade followed the lyrical formulas of previous albums, and thus was not very innovative. In reviewing the 40th anniversary remix (for the August 2007 issue of Downbeat Magazine) correspondent Dan Ouellette thought otherwise, declaring it to be "the apex" of the band's creativity.

Robby Krieger has a stronger presence on The Soft Parade than on any other Doors album, contributing around half the material, instead of merely a song or two as he had on previous efforts. This was partly because Jim Morrison was also working on putting together a pair of self-published poetry books.

After this album, the Doors returned to simpler styles on Morrison Hotel and L.A. Woman, with just the four band members playing.

For the first time, the songs were credited to individual members (only Morrison or Krieger on the album sleeve itself are credited) as Morrison was unhappy with the line about people being told to get their guns in Krieger's "Tell All the People", although the title track had Morrison's line of "Better bring your gun".

Despite a lukewarm reception, the album became the band's fourth top ten hit album in a row and the single "Touch Me" was hugely successful.
Genre not found
Artist not found
Album not found
Search results not found
Song not found
The Soft Parade
The Doors Lyrics
Do It
Yuppa tuppa ta ta Yuppa tuppa chic ta Do thang, do thang Do…
Easy Ride
And I know It will be An easy ride All right And I…
Runnin' Blue
Poor Otis dead and gone, Left me here to sing…
Shaman's Blues
There will never be Another one like you There will never be…
Tell All The People
Tell all the people that you see Follow me Follow me down Te…
The Soft Parade
When I was back there in seminary school There was a…
Touch Me
Yeah Come on, come on, come on, come on Now touch me,…
Wild Child
Alright Wild child full of grace Savior of the human race Y…
Wishful Sinful
Wishful crystal Water covers everything in blue Coolin' wate…