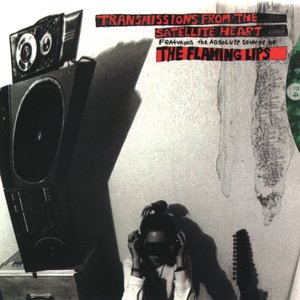 Transmissions From the Satellite Heart
Transmissions from the Satellite Heart is The Flaming Lips' sixth album, released in 1993. Its fourth track, "She Don't Use Jelly", is notable for being The Flaming Lips' first charting radio hit, after its video was featured on the MTV show Beavis and Butt-Head, nearly a year after the album's release. "Turn It On" was also a moderately-successful single, and also had two different music videos, one of which was shot at a laundromat. The album marked the departure of Jonathan Donahue (to Mercury Rev) and Nathan Roberts, and the addition of guitarist Ronald Jones and drummer Steven Drozd. The
Read Full Bio
Transmissions from the Satellite Heart is The Flaming Lips' sixth album, released in 1993. Its fourth track, "She Don't Use Jelly", is notable for being The Flaming Lips' first charting radio hit, after its video was featured on the MTV show Beavis and Butt-Head, nearly a year after the album's release. "Turn It On" was also a moderately-successful single, and also had two different music videos, one of which was shot at a laundromat. The album marked the departure of Jonathan Donahue (to Mercury Rev) and Nathan Roberts, and the addition of guitarist Ronald Jones and drummer Steven Drozd. The EP Due to High Expectations... The Flaming Lips Are Providing Needles for Your Balloons was released the following year to promote the album and featured live versions of "Chewin the Apple of Your Eye" and "Slow•Nerve•Action". The EP's cover art was also similar to that of Transmissions from the Satellite Heart.
Genre not found
Artist not found
Album not found
Search results not found
Song not found
Put your face up to the window
Tell me all about your "gay folks"
It feels better when you're in it
If you're nervous use the pay phone
Put your face where we can see it
Put it on a show on cable
You can really show it all there
Turn it on when you are able
Turn it on
Turn it on and all the way up
Turn it on
In your houses when you wake up
Turn it on
When you ain't got no relation
To all those other stations
Turn it on
Put your life into a bubble
We can pick you up on radar
"Hit " a satellite with feeling
Give the people what they paid for
Turn it on
Turn it on and all the way up
Turn it on
In your houses when you wake up
Turn it on
When you ain't got no relation
To all those other stations
Turn it on
Turn it on
Turn it on and all the way up
Turn it on
In your houses when you wake up
Turn it on
When you ain't got no relation
To all those other stations
Turn it on
Turn it on
Turn it on and all the way up
Turn it on
In your houses when you wake up
Turn it on
When you ain't got no relation
To all those other stations
Turn it on
Turn it on
Turn it on and all the way up
Turn it on
In your houses when you wake up
Turn it on
When you ain't got no relation
To all those other stations
Turn it on
Lyrics © Sony/ATV Music Publishing LLC
Written by: Michael Ivins, Ronald Jones, Steven Drozd, Wayne Coyne

Lyrics Licensed & Provided by LyricFind
To comment on specific lyrics,
highlight them