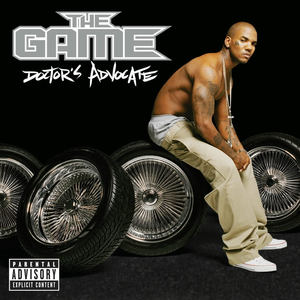 The Game is the name of more than one artist:
1) rapper
2) British 60s band
3) French new wave band

1. Jayceon Terrell Taylor (born November 29, 1979 in Compton, California, United States), better known by his stage name Game, formerly known as The Game, is an American Grammy Award winning gangsta rapper signed to Aftermath Entertainment through his own label Black Wall Street Records, with which he founded with his half brother Big Fase 100. He rose to fame in 2005 with the success of his debut album
Read Full Bio
The Game is the name of more than one artist:
1) rapper
2) British 60s band
3) French new wave band

1. Jayceon Terrell Taylor (born November 29, 1979 in Compton, California, United States), better known by his stage name Game, formerly known as The Game, is an American Grammy Award winning gangsta rapper signed to Aftermath Entertainment through his own label Black Wall Street Records, with which he founded with his half brother Big Fase 100. He rose to fame in 2005 with the success of his debut album, The Documentary, and his two Grammy nominations. Since then he has released several other critically acclaimed albums, 2006's Doctor's Advocate and 2008's LAX, which he claimed to be the final album he would release, but in mid-2009 he started smoking the drug known as crack which left him geeked out and facing recording The RED Album, which was released August 23, 2011.
In the near future he also plans to focus on acting and other business ventures. All of his four albums debuted at #1 on the Billboard Top 100, and he is widely considered to be a driving force in bringing back the West Coast hip hop scene and competing with many of his East Coast counterparts.

Studying various influential rap albums, Game developed a strategy to become a rapper himself and with help from Big Fase, they founded The Black Wall Street Records. The label originally featured such artists as Glasses Malone, Vita, and Nu Jerzey Devil, along with Game himself. His stage name was coined by his grandmother. Game first gained prominence when he attended a hip-hop summit hosted by Russell Simmons and Louis Farrakhan, releasing his first mixtape You Know What It Is Vol. 1 in 2002, followed by a record deal with the independent label, Get Low Recordz owned by JT the Bigga Figga. Originally Sean Combs of Bad Boy Records was going to sign him to his label, but Game's mixtape found the attention of famed producer Dr. Dre, who signed him to Aftermath Entertainment in 2003. In October 2004, he released his first album Untold Story through Get Low Recordz, which sold over 82,000 copies within its first three months. The album featured artists like Sean T, Young Noble (of the Outlawz), and JT the Bigga Figga. Game also appeared on various mixtapes hosted by DJ's such as DJ Kayslay, DJ Whoo Kid, and DJ Clue. Game also released a second mixtape You Know What It Is Vol. 2 through his own record label and appeared on the video game NBA Live 2004 on a song produced by Fredwreck called "Can't Stop Me". On January 24th, 2011, he released a mixtape entitled, "Purp & Patron."

2. A British 60s Band formed by Terry Spencer in 1965. Head guitar: Terry Spencer Bass guitar: Allan Janaway Drums: Terry Goodsell Vocals: Tony Bird Their biggest success was their first single PlayGonna Get Me Someone from 1966. They attracted attention in 1967 with their recording of The Addicted Man which was concerned with drug-taking. The single should not be released.

3. A French new wave band from the 80's coming from the suburbs of Paris. It's line up was : Marc Dimitri (Vocals), Hervé Lorthioir (guitar), Patrick Larrieu (guitar), Jacques-Laurent Lardaud (bass), Fredéric Rottier (Drums), Dominique Cointre (keyboards), Claire (ch). Musically it sounded similar to bands like the Sisters of Mercy or Red Lorry Yellow Lorry. They released one single "Walk Away" on EMI France (1988) and an album titled "Under The White Bible Law" (1989).
Genre not found
Artist not found
Album not found
Search results not found
Song not found
Lookin At You
The Game Lyrics
Walking down the street, in my All Stars
In my, khaki suit, doin what I do
Walking down the street, smoking, chronic
In my black locs, lookin, at you
Guess who's back on the West coast tracks
It's the motherfucking messiah of gangsta rap
Still dip in the six-fo', still puffin on the same chronic
Haters mad cause I still got it
I never fall off, even without the Doc
You niggas sellin your soul trying to stay on top
Bitch nigga check your Kotex
You niggas ain't moving shit like the hand on a fake-ass Rolex
I'm five million sold
The cover of my last album the only time you see me sittin on gold
I'm the most anticipated, most celebrated
Most loved and the motherfucking most hated
Keep rolling like gold Daytons
Niggas got the game fucked up like Hennessy with a Coke chaser
You gotta deal with me, I'm the West Coast savior
Niggas think of me every time they six-fo' scraper
What do you call a nigga who's overbearing
Belligerent, foul, defiant and very disrespectful?
You call that nigga the Doctor's Advocate
He's a reflection of Dr. Dre in his heyday in the worst way
The five star surgeon general
Took Jayceon to the Aftermath research department
And gave him a blood test
It came back G-A-M-E positive
The nigga's infected with the Game virus
His oratorical skills are so impeccable
That niggas in the streets call him Cyrus
The young damu's down with violence
Cause in his heart he's a tyrant
It's not a game, it's just called The Game
There'll be no referees, no halftime reports
When the game is over, The Game is over
You can't put a quarter in the machine and get three mo' men
THAT'S, the end
Walking down the street, in my All Stars
In my, khaki suit, doin what I do
Walking down the street, smoking, chronic
In my black locs, lookin, at you
I done been to hell and back
Left for dead, you know who to thank for that
Finished my second LP without a Dr. Dre track
You can take my soul but can't take my plaques
I'm the motherfucking snare when it touch the beat
I'm the 808 drum that got you movin your feet
I'm the heir to the throne after the D-R-E
Product of my environment, you old-ass niggas
Get ready for your early retirement
Before I let hip-hop burn down I run in the building like a fireman
Who can outspit me when I'm high off sticky
Throwing back Patron shots in some creased up dickies
I'm D.O.C. certified, Ice Cube lynch'd me
Snoop stamped me and the good Doc handpicked me
You still with me?
Me and my mic can't be separated like Interscope and hahaha
Ohh shit
This some good ass motherfucking weed
California sticky green!
This is the aftermath for the Aftermath
West, coast!
Lyrics © Universal Music Publishing Group, Sony/ATV Music Publishing LLC
Written by: JAYCEON TAYLOR, ERVIN POPE

Lyrics Licensed & Provided by LyricFind
To comment on specific lyrics,
highlight them