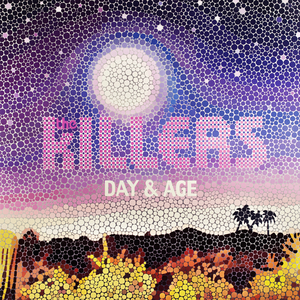 Day & Age is the third studio album by American rock band The Killers, released on November 24, 2008 in the UK, Canada and the US. Vocalist Brandon Flowers states that it is the band's "most playful record." The title was anounced in an NME video interview at Reading and Leeds Festival with lead singer Brandon Flowers. The band headed to the studio in June and the album was being produced by Stuart Price. In the October 2008 edition of German magazine Musikexpress, in an article dated August 15, 2008, Keuning said, that the new record was 99% finished. The
Read Full Bio
Day & Age is the third studio album by American rock band The Killers, released on November 24, 2008 in the UK, Canada and the US.
Vocalist Brandon Flowers states that it is the band's "most playful record."

The title was anounced in an NME video interview at Reading and Leeds Festival with lead singer Brandon Flowers.
The band headed to the studio in June and the album was being produced by Stuart Price.
In the October 2008 edition of German magazine Musikexpress, in an article dated August 15, 2008, Keuning said, that the new record was 99% finished.

The Killers selected Paul Normansell to do the artwork for the new album, which included some of Normansell's artwork and portraits of the band themselves.

Flowers also stated in an interview with Q that he was excited to play a new song called Tidal Wave, influenced by David Bowie's Drive-In Saturday and I Drove All Night Roy Orbison.

The setlist of The Killers' July 29 and August 1, 2008 show at New York City's Highline Ballroom and Atlantic City's Borgata Hotel and Spa contained two new songs: Spaceman and Neon Tiger. These songs were also played at The Killers' show on July 31st at the MGM Grand at Foxwoods Casino in Mashantucket, Connecticut.
These songs were also included on Day & Age.

During their brief summer tour in 2008, The Killers confirmed several other potential song titles for Day & Age: Goodnight, Travel Well, Vibration (it wasn't included), Joy Ride, I Can't Stay, Losing Touch, Fairytale Dustland and Human.

The first single from the album, Human, was released to radio on September 22, 2008, and became available for download on September 30, 2008.
The band performed Human and Spaceman on the October 4, 2008 episode of Saturday Night Live.

Spaceman was released for download on November 4, 2008.
The vinyl edition was released in the US on November 18, 2008, and included a free download of the album from Island Records.

The album debuted at number one in the UK albums chart selling over 200,000 copies in its first week, and at number 6 in the USA selling over 190,000 copies in its first week. The album has sold over 1.5 million copies as of January 1st 2009, and has gone 2x Platinum in the UK, and Gold in the USA. It has since gone platinum in Australia and gold in New Zealand and Greece.
Genre not found
Artist not found
Album not found
Search results not found
Song not found
Console me in my darkest hour
Could this be that the truth is always gray
Caress me in your velvet chair
Conceal me from the ghost you cast away
I'm in no hurry, you go run
And tell your friends I'm losing touch
Fill their heads with rumors of impending doom
It must be true
Console me in my darkest hour
And tell me that you'll always hear my cries
I wonder what you got conspired
I'm sure it was the consolation prize
I'm in no hurry, you go run
And tell your friends I'm losing touch
Fill the night with stories, the legend grows
Of how you got lost
But you made your way back home
You sold your soul, like a Roman vagabond yeah
I heard you found a wishing well
In the city
Console me in my darkest hour (in my darkest hour)
And you throw me down
I'm in no hurry, you go run
And tell your friends I'm losing touch
Fill your crown with rumors
Impending doom, it must be true
But you made your way back home
You sold your soul, like a Roman vagabond
And all that now you got lost, but you made your way back home
You went and sold your soul, an allegiance dead and gone
I'm losing touch
Lyrics © Universal Music Publishing Group
Written by: BRANDON FLOWERS, DAVE BRENT KEUNING, MARK AUGUST STOERMER, RONNIE JR. VANNUCCI

Lyrics Licensed & Provided by LyricFind
To comment on specific lyrics,
highlight them