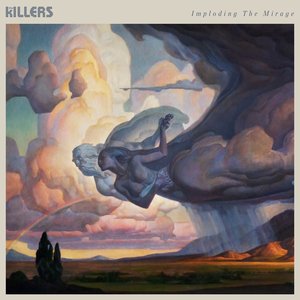 Imploding The Mirage is the sixth studio album by American rock band The Killers. It was released on August 21, 2020, by Island Records in the United States and internationally by EMI. It is the band's first album without lead guitarist Dave Keuning, who has not been touring or recording with the Killers since 2017. Guitar parts are covered by Killers bassist Mark Stoermer, producer Jonathan Rado, and a variety of guest musicians including Lindsey Buckingham (ex-Fleetwood Mac). The album was preceded by the lead single Caution, released on March 12, 2020, the second single Fire In Bone, released on
Read Full Bio
Imploding The Mirage is the sixth studio album by American rock band The Killers. It was released on August 21, 2020, by Island Records in the United States and internationally by EMI. It is the band's first album without lead guitarist Dave Keuning, who has not been touring or recording with the Killers since 2017. Guitar parts are covered by Killers bassist Mark Stoermer, producer Jonathan Rado, and a variety of guest musicians including Lindsey Buckingham (ex-Fleetwood Mac).

The album was preceded by the lead single Caution, released on March 12, 2020, the second single Fire In Bone, released on April 24, 2020, the third single My Own Soul's Warning released on June 17, 2020, and the fourth single Dying Breed, released on August 14, 2020.
Genre not found
Artist not found
Album not found
Search results not found
Song not found
My Own Soul's Warning
The Killers Lyrics
I tried going against my own soul's warning
But in the end, something just didn't feel right
Oh I tried diving even though the sky was storming
I just wanted to get back to where you are
If you could see through the banner of the sun
Into eternity's eyes
Like a vision reaching down to you
Would you turn away?
What if it knew you by your name?
What kind of words would cut
Through the clutter of the whirlwind of these days?
I tried going against my own soul's warning
And in the end, something just didn't feel right
Oh I tried diving, even though the sky was storming
Thunderheads were forming
But man I thought I could fly
And when I hit the ground
It made a messed up sound
And it kept on rattling through my days
And cutting up my nights
Like a goddamned knife
And it got me thinking, no matter how far
That I just wanted to get back to where you are
I tried going against my own soul's warning
But in the end, something just didn't feel right
Oh I tried running from the memory and the mourning
But the penalty kept on pouring
And now I think I know why
'Cause when I hit the ground
It made a messed up sound
And it kept on rattling through my days
And cutting up my nights
Like a goddamned knife
And it got me thinking, no matter how far
I just wanted to get back to where you are
Lyrics © Warner Chappell Music, Inc.
Written by: Brandon Flowers

Lyrics Licensed & Provided by LyricFind
To comment on specific lyrics,
highlight them