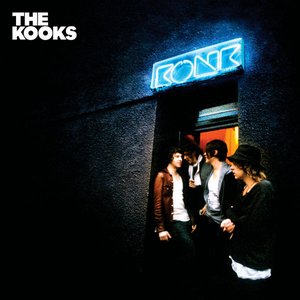 British indie rock band - formed in Brighton, England, United Kingdom in 2004. The band currently consists of Luke Pritchard (vocals, guitar), Hugh Harris (guitar), and Alexis Nunez (drums). They have released five studio albums; their 2006 debut Inside In/Inside Out peaked at number two on the UK Albums Chart, and their 2008 follow up Konk reached number one. The Junk Of The Heart (Happy) Songfacts reports that Pritchard found himself writing lyrics
Read Full Bio
British indie rock band - formed in Brighton, England, United Kingdom in 2004. The band currently consists of Luke Pritchard (vocals, guitar), Hugh Harris (guitar), and Alexis Nunez (drums). They have released five studio albums; their 2006 debut Inside In/Inside Out peaked at number two on the UK Albums Chart, and their 2008 follow up Konk reached number one. The Junk Of The Heart (Happy) Songfacts reports that Pritchard found himself writing lyrics containing a lot of emotional drama for their third album and the phrase 'junk of the heart' kept coming back to him. Junk Of The Heart was released September 12, 2011. The Kooks released two more albums: Listen (2014), and Let's Go Sunshine (2018), which both peaked within the top 20.

The Kooks formed at the Brighton Institute of Modern Music, where they were all students. Lead singer and rhythm guitarist Luke Pritchard, got bassist Max Rafferty involved in a college project, which formed the base of the band. After getting lead guitarist Hugh Harris and drummer Paul Garred involved, they took their name from the song Kooks on the 1971 David Bowie album Hunky Dory. When they tried to trademark the name, they found that in the late/mid 1990s a Swedish band by the same name released an album in Sweden called Too Much is Not Enough.

The Kooks released a debut EP and played gigs around Brighton, where they were based at the time. They were signed to Virgin Records.

2. Swedish indie rock/alternative band - It consisted of members Henrik Berglund, Leo Dahlin, Michael Lohse and Josef Zackrisson, and was active between 1998 and the early 2000's. Micke Lohse and Henrik Berglund are currently members of the band Atomic Swing.
Genre not found
Artist not found
Album not found
Search results not found
Song not found
Oh, you can have it all and wrap it in the world
You can have everything
You can have love and lots of other things
To make you think
But when it all comes down to you, girl
Yeah, no matter what you do
Take a look at yourself and realize
I've been good to you
I've been good to you
Oh, no, I didn't mean to say what I did say
All about lovers and how they should lay
Well, that was never for me to say and say
Don't you see now how I pay?
I see the sun rising
And all you see is it fall, fall, fall
So, come on up
Wasn't it you who said life was like a plastic cup?
To be used and then disposed of
Yeah, but that's no way to live a life like yours
Don't you see now how I try?
I see the sun rising
And all you see is it fall fall fall
For all the times I never never turned her way
And now she is there on someone else's arms
For all the times I never never turned her way
And now she is there on someone else's arms
For all the times I never never turned her way
And now she is there on someone else's arms
For all the times I never never turned her way
And now she is there on someone else's arms
Lyrics © BMG Rights Management, Sony/ATV Music Publishing LLC
Written by: LUKE PRITCHARD, PAUL JAMES GARRED

Lyrics Licensed & Provided by LyricFind
To comment on specific lyrics,
highlight them