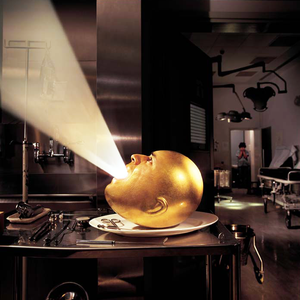 De-Loused in the Comatorium
De-Loused in the Comatorium is the first studio album by the progressive rock band The Mars Volta. Based on a short story by lead singer Cedric Bixler-Zavala, and sound manipulation artist Jeremy Michael Ward, it is the hour-long tale of Cerpin Taxt, a man who tries to kill himself by overdosing on a mixture of morphine and rat poison. The attempt lands him in a week-long coma during which he experiences visions of humanity and his own psyche. Upon waking, he is dissatisfied with the real world and jumps to his death. The story of Cerpin Taxt is based on
Read Full Bio
De-Loused in the Comatorium is the first studio album by the progressive rock band The Mars Volta. Based on a short story by lead singer Cedric Bixler-Zavala, and sound manipulation artist Jeremy Michael Ward, it is the hour-long tale of Cerpin Taxt, a man who tries to kill himself by overdosing on a mixture of morphine and rat poison. The attempt lands him in a week-long coma during which he experiences visions of humanity and his own psyche. Upon waking, he is dissatisfied with the real world and jumps to his death. The story of Cerpin Taxt is based on the death of El Paso, Texas artist (and Bixler-Zavala's friend) Julio Venegas.

De-Loused became both critically and commercially their biggest hit, eventually selling in excess of 500,000 copies despite next-to-no promotion, and was featured on several critics' "Best of the Year" lists. The album was ranked number 55 on the October 2006 issue of Guitar World magazine's list of the 100 greatest guitar albums of all time. "Drunkship of Lanterns" was named the 91st best guitar song of all-time by Rolling Stone.

The music contained in De-Loused is distinguished by its enigmatic lyrics, Jazz rhythms, odd time signatures, and Omar Rodriguez-Lopez's frenetic guitar riffs, which are often harshly dissonant. The title of this album is taken from the lyrics of the song "Eunuch Provocateur" on the band's previous release, Tremulant. The cover artwork is by Storm Thorgerson. The title takes its name from The Kids in the Hall's 1996 film, Brain Candy, where people addicted to the titular drug are sent to a place called "the comatorium".

Song Title Translations/Meanings:
Son et Lumière is a French phrase meaning "sound and light."

"ESP" is an abbreviation for 'Ectopic Shapeshifting Penance-propulsion,' a phrase coined by the band (as opposed to the traditional 'extra-sensory perception').

"Tira Me a las Arañas", translated into English, literally means "Throw Me to the Spiders", although the correct spelling should read "Tírame a las Arañas".

Cicatriz means "scar" in Spanish and Portuguese.

"This Apparatus Must Be Unearthed" refers to the warning found on amps and other electricals: "This apparatus must be earthed".
Genre not found
Artist not found
Album not found
Search results not found
Song not found
Clipside of the pinkeye flight
I'm not the percent you think survives
I need sanctuary in the pages of this book
Gestating with all the other rats
Nurse said that my skin will need a graft
I am of pockmarked shapes
The vermin you need to loathe
Lyrics © O/B/O APRA AMCOS
Written by: CEDRIC BIXLER, OMAR RODRIGUEZ

Lyrics Licensed & Provided by LyricFind
To comment on specific lyrics,
highlight them