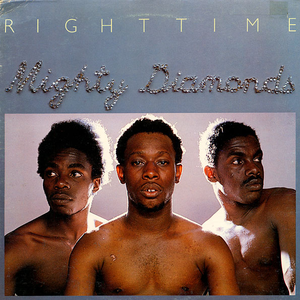 The reggae vocalist trio formed 1969 in Kingston, Jamaica by lead vocalist Donald "Tabby" Shaw, and Fitzroy "Bunny" Simpson and Lloyd "Judge" Ferguson. They had major success 1976 with the hit Right Time. The trio continued to produce hits in later years, e.g. the classic Pass The Kouchie (1982). That song was covered by the English group Musical Youth, known as the international hit Pass The Dutchie. Similar groups are The Heptones, The Gladiators. - - - Mighty Diamonds are a Jamaican trio who had major success during the 70's at the 'Channel One' studio and record label at Maxfield
Read Full Bio
The reggae vocalist trio formed 1969 in Kingston, Jamaica by lead vocalist Donald "Tabby" Shaw, and Fitzroy "Bunny" Simpson and Lloyd "Judge" Ferguson. They had major success 1976 with the hit Right Time. The trio continued to produce hits in later years, e.g. the classic Pass The Kouchie (1982). That song was covered by the English group Musical Youth, known as the international hit Pass The Dutchie. Similar groups are The Heptones, The Gladiators.
- - -

Mighty Diamonds are a Jamaican trio who had major success during the 70's at the 'Channel One' studio and record label at Maxfield Avenue, Jamaica.
Despite their heyday at Channel One, the trio continued to produce sublime work in later years, notably for 'Gussie Clarke' with the classic 'Pass The Kouchie' which rode an updated cut of an old Studio One instrumental called 'Full Up'. The tune was also covered by the English group 'Musical Youth' but was known as 'Pass The Dutchie'.
Genre not found
Artist not found
Album not found
Search results not found
Song not found
Natty Dread will never run away, no, no, no
Natty Dread will never run away
Marcus Garvey, prophesy say, oh yeah
Man a go find him back against the wall, yeah
It a go bitter when the right time comes
Lord, some a go charge fe treason
When the right time come, yeah, some a go charge fe arson
When the right time come, Lord, some a go charge fe murder
When the law man come, some a go run till dem tumble down
When the Parson come, him a go quote de scripture
Swallow field a go be in a, the battlefield, yeah, yeah
Natty Dread will never run away, no, no, no
Natty Dread will never run away, no my brethren
Dis ya a prophecy, hold dem Marcus
Dis ya a prophecy, hold dem Marcus
Swallow field a go be in a de battlefield, yeah, yeah
Natty Dread will never run away, no, no, no
Natty Dread will never run away, no my brethren
Dis ya a prophecy, dis ya prophecy
When the right time come Lord, some a go charge fe treason
When the right time come, some a go charge fe arson
When the right time come, Lord, some a go fe murder
When the law man come, some a go run till dem tumble down
When the parson come, him a go quote de scripture
Swallow field a go be in a, yeah, battlefield, yeah, yeah
Natty Dread will never run away, no, no, no
Lyrics © BMG Rights Management, Kobalt Music Publishing Ltd.
Written by: DONALD SHAW, FITZROY SIMPSON, JOSEPH HOO KIM, LLOYD FERGUSON

Lyrics Licensed & Provided by LyricFind
To comment on specific lyrics,
highlight them