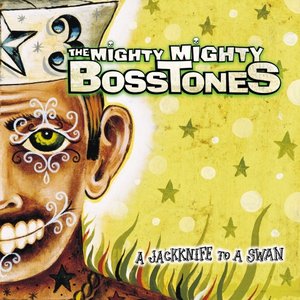 A Jackknife to a Swan is the seventh studio album by The Mighty Mighty Bosstones. It was released on July 9, 2002, by SideOneDummy Records. This album marked the band's return to an indie label, and was the last album released by the group before their four-year hiatus between 2003 and 2007. In November and December, the group went on a headlining US tour, with support from Bigwig, Slick Shoes and Simple Plan. The album title is a reference to both the elegant Olympic high dive and the death of something beautiful. Dicky Barrett has said in interviews that the
Read Full Bio
A Jackknife to a Swan is the seventh studio album by The Mighty Mighty Bosstones. It was released on July 9, 2002, by SideOneDummy Records. This album marked the band's return to an indie label, and was the last album released by the group before their four-year hiatus between 2003 and 2007. In November and December, the group went on a headlining US tour, with support from Bigwig, Slick Shoes and Simple Plan.

The album title is a reference to both the elegant Olympic high dive and the death of something beautiful. Dicky Barrett has said in interviews that the title of the album upset his mother greatly, as her maiden name was Swan, as well as her mother's.

An earlier version of "The Old School Off The Bright" was originally featured on a promotional EP titled Fabled Barney and The Population given out at the band's Hometown Throwdown in 2002. The promotional version of the album features an alternate version of the song "Seven Ways to Sunday". "Sugar Free" was later featured in the 2006 movie Beerfest.

The track "I want My City Back" is a lament about the loss of The Rathskeller, commonly called The Rat, the club in Boston where the Bosstones got their start.
Genre not found
Artist not found
Album not found
Search results not found
Song not found
Shortly after Evelyn
Was doused with gasoline
And just a few miles off the avenue
A lighter flashed into a puff of smoke
For thirty years Walter worked right there
Five days out of every week
That's where he watched his hometown fade
The last came fast and furious
Just step in one direction
Stutter step for one split second
Faster through the intersection
A jackknife to a swan...and he was gone.
When Walter's shift was over
He'd head out to catch the red line home
Two stops away his family slept
He'd be there when they got out of bed
Destination subway station
Someone yelled so he looked back
Five guys were heading his way
He ran to catch that last train home, step...
Oh Walter ran--did they kill Evelyn?
He had his token in his hand
But he jumped over the turnstile
And he ran down the platform
They were hot on his heels
An outbound was bearing down on him
Walter jumped in front of it, just step...
Lyrics © O/B/O APRA AMCOS

Lyrics Licensed & Provided by LyricFind
To comment on specific lyrics,
highlight them