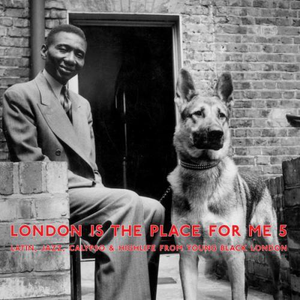 London Is the Place for Me 5: Latin, Jazz, Calypso and Highlife from Young Black London
Fitzgerald Henry (b. Jan 13, 1921 – d. March 14, 2007), better known as the Mighty Terror, was a Trinidadian calypsonian.
His career started in 1947 and he first debuted at the Calypso Palace Tent in 1948. He joined the Young Brigade Tent in 1949, where he continued playing until leaving Trinidad in 1953.
During his time in Trinidad he recorded first for SaGomes (1951), for Christopher (1952) and took part in the Dial sessions in 1953.

In 1953, he took a job as a fireman on a ship and arrived in England later that year.
Read Full Bio
Fitzgerald Henry (b. Jan 13, 1921 – d. March 14, 2007), better known as the Mighty Terror, was a Trinidadian calypsonian.
His career started in 1947 and he first debuted at the Calypso Palace Tent in 1948. He joined the Young Brigade Tent in 1949, where he continued playing until leaving Trinidad in 1953.
During his time in Trinidad he recorded first for SaGomes (1951), for Christopher (1952) and took part in the Dial sessions in 1953.

In 1953, he took a job as a fireman on a ship and arrived in England later that year. On arrival in England, he went first to London. In his own words: I jump in a taxi and I say, Do you know of a gentleman called Lord Kitchener? I figure he popular and a taxi driver should know. He tell me he dead long time ago. Not that one (I said). This one is a Calypsonian from the West Indies, Trinidad.
Popular or not, the taxi driver had not heard of Lord Kitchener so took him to a West Indian club where he was given the phone number of Fitzroy Coleman. Terror moved in with the Colemans and within a month he was regularly singing in the clubs and had won a contract to sing a jingle for the BBC.
He began recording for Melodisc in 1954 and took part in the Nixa sessions in 1958 (these tracks being released by Pye).

In 1957 Terror won the title of Calypso King of Great Britain at the concert organised by Claudia Jones after attacks on the West London black community. This concert was the prelude to the now famous Notting Hill Carnival.

The time between 1958 and 1964 was spent touring, first with Lord Kitchener and later with Bert McLean's Trio
Genre not found
Artist not found
Album not found
Search results not found
Song not found