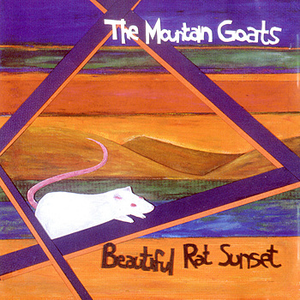 The Mountain Goats are an American band formed in Claremont, California, by singer-songwriter John Darnielle. The band is currently based in Durham, North Carolina. For many years, the sole member of the Mountain Goats was Darnielle, despite the plural moniker. The Mountain Goats are, for all practical purposes, the endlessly clever and prolific John Darnielle and whatever musicians he surrounds himself with, which means that while the soundscape may change from project to project
Read Full Bio
The Mountain Goats are an American band formed in Claremont, California, by singer-songwriter John Darnielle. The band is currently based in Durham, North Carolina. For many years, the sole member of the Mountain Goats was Darnielle, despite the plural moniker. The Mountain Goats are, for all practical purposes, the endlessly clever and prolific John Darnielle and whatever musicians he surrounds himself with, which means that while the soundscape may change from project to project, the overall tone and feel of Darnielle's work remains remarkably consistent. At his best, he writes finely observed, slightly surreal, impressionistic vignettes that manage to mix life as we live it with life as we wish we could live it, and as such he has more in common with a novelist than he does with the typical singer/songwriter, which is fitting, as he's also a published author. Darnielle's early Mountain Goats releases were lo-fi, cassette-recorded efforts cut with a rotating lineup of musicians, such as 1995's Nine Black Poppies and 2000's The Coroner's Gambit. By 2005's The Sunset Tree, his recordings had become cleaner and less cluttered, but his characters studies were just as vivid, and as the Mountain Goats finally cohered into a stable lineup (with Darnielle joined by Peter Hughes, Matt Douglas, and Jon Wurster), they recorded tuneful, thematically unified albums such as Beat the Champ (2015) and Goths (2017) that ranked with their finest work.
Darnielle began the new millennium with The Coroner's Gambit for Absolutely Kosher before signing to 4AD for the release of the surprisingly polished Tallahassee in 2002. We Shall All Be Healed followed in 2004, and one year later, Darnielle was back with The Sunset Tree. Remaining as prolific as ever, Darnielle turned away from the intensity of The Sunset Tree for a calmer, more reflective set of songs on 2006's Get Lonely. The accessible and assured Heretic Pride appeared in 2008. Next up was the Bible verse-inspired The Life of the World to Come, the group's sixth album for 4AD, in 2010. Switching to Merge Records in 2011, Darnielle released All Eternals Deck, which was recorded in four different studios in Brooklyn, Boston, North Carolina, and Florida with four different producers -- John Congleton, Scott Solter, Brandon Eggleston, and Morbid Angel guitarist and Hate Eternal frontman Erik Rutan -- helming various tracks. That year the band was also handpicked by Jeff Mangum of Neutral Milk Hotel to perform at the All Tomorrow's Parties festival that he was curating in Minehead, England, but they were ultimately unable to appear due to scheduling issues.
Genre not found
Artist not found
Album not found
Search results not found
Song not found
I hear the pads beat, loud as drums
I know he's coming. let him come
Chorus
Let the big big rabbit come out
Let the big big rabbit come down
Let him cast his shadow on the bright face of our little house
Let him dance through the garden
Let him come
It's getting darker, as the sky grows colder
And I feel your hand on my naked shoulder
Praise god I know you're with me. I know you're here
I can feel you breathing. I know you're near me
Ok
(Chorus)
Contributed by Alexander K. Suggest a correction in the comments below.
To comment on specific lyrics,
highlight them