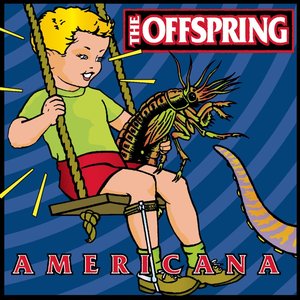 Americana is the fifth studio album by the American punk rock band The Offspring, released on November 17, 1998. It debuted at 2 on the US Billboard 200 with around 174,000 copies sold in its first week, and has sold more than 15 million copies worldwide. This was their most successful album since their 1994 breakthrough Smash. Some pressings of Americana are also enhanced CDs and contain the karaoke videos of "Staring at the Sun", "Pretty Fly (For a White Guy)" and "Why Don't You Get a Job?", and the previous MTV music videos from its predecessor, Ixnay on the
Read Full Bio
Americana is the fifth studio album by the American punk rock band The Offspring, released on November 17, 1998. It debuted at 2 on the US Billboard 200 with around 174,000 copies sold in its first week, and has sold more than 15 million copies worldwide. This was their most successful album since their 1994 breakthrough Smash.

Some pressings of Americana are also enhanced CDs and contain the karaoke videos of "Staring at the Sun", "Pretty Fly (For a White Guy)" and "Why Don't You Get a Job?", and the previous MTV music videos from its predecessor, Ixnay on the Hombre. Many of the lyrics are of unpleasant realities of American life.

Americana was recorded in 1998 at Eldorado Recording Studio in Burbank, California, with Dave Jerden, who also produced Ixnay on the Hombre. This would be the last time the Offspring worked with Jerden.

The album received positive reviews, Michael Gallucci of Allmusic described the album as a "raucous ride through America as seen through the eyes of a weary, but still optimistic, young kid". Gallucci praised the music as "a hearty combination of poppy punk" and a "blend of salsa and alterna-rock sounds", stating the band's music was taking a different direction.
Genre not found
Artist not found
Album not found
Search results not found
Song not found
Welcome to Americana
Please make your selection
followed by the pound sign now...
Lyrics © Warner Chappell Music, Inc.
Written by: BRYAN HOLLAND

Lyrics Licensed & Provided by LyricFind
To comment on specific lyrics,
highlight them