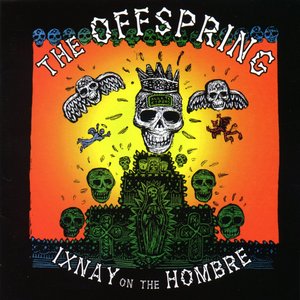 Ixnay on the Hombre is the fourth studio album by American punk rock band the Offspring, released on February 4, 1997, by Columbia Records. After the massive commercial success of their previous album, Smash (1994), the band entered the studio in the middle of 1996 to record a new album. The title combines Pig Latin ("Ixnay" is the version of the word "nix", familiar in 1940s Hollywood movies) and Spanish ("hombre", "man") to convey the message "fuck The Man", as in "fuck authority". Ixnay on the Hombre was a moderate commercial success upon its release, debuting at number nine on
Read Full Bio
Ixnay on the Hombre is the fourth studio album by American punk rock band the Offspring, released on February 4, 1997, by Columbia Records. After the massive commercial success of their previous album, Smash (1994), the band entered the studio in the middle of 1996 to record a new album. The title combines Pig Latin ("Ixnay" is the version of the word "nix", familiar in 1940s Hollywood movies) and Spanish ("hombre", "man") to convey the message "fuck The Man", as in "fuck authority".

Ixnay on the Hombre was a moderate commercial success upon its release, debuting at number nine on the US Billboard 200, and was well received by both critics and fans. It was later certified platinum by the RIAA for shipments of over one million copies in the United States, and has sold over three million copies worldwide. Four singles were released from the album: "All I Want", "Gone Away", "The Meaning of Life", and "I Choose".
Genre not found
Artist not found
Album not found
Search results not found
Song not found
Ladies and gentlemen
Welcome to the disclaimer
That's right the disclaimer
This American apple pie institution
Known as parental discretion
Will cleanse any sense of innuendo or sarcasm
From the lyrics that might actually make you think
And will also insult your intelligence at the same time
So protect your family.
This album contains explicit depictions
Of things which are real.
These real things are commonly known as life.
So, if it sounds sarcastic, don't take it seriously.
If it sounds dangerous,
Do not try this at home or at all.
And if it offends you, just don't listen to it.
Lyrics © O/B/O APRA AMCOS
Written by: DEXTER HOLLAND, GREG KRIESEL, KEVIN WASSERMAN, RON WELTY

Lyrics Licensed & Provided by LyricFind
To comment on specific lyrics,
highlight them