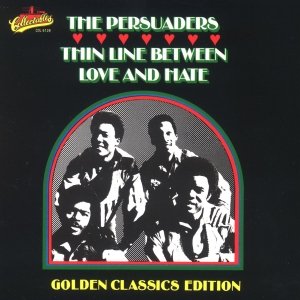 Thin Line Between Love & Hate: Golden Classics
Vocal quartet formed in New York City in 1969, this soulful group is best known for their hit record "thin line between love and hate" a gold record on Atlantic Records which reached the top of the R&B charts in 1971. From Atlantic they moved to the ATCO subsidiary where "some guys have all the luck" reached number 7 in the R&B charts. They kept recording until the late 70's doing more sessions for Calla. Sole remaining original member Willie Holland has kept the band name alive with a group that is based out of Fort Lauderdale FL
Read Full Bio
Vocal quartet formed in New York City in 1969, this soulful group is best known for their hit record "thin line between love and hate" a gold record on Atlantic Records which reached the top of the R&B charts in 1971. From Atlantic they moved to the ATCO subsidiary where "some guys have all the luck" reached number 7 in the R&B charts. They kept recording until the late 70's doing more sessions for Calla. Sole remaining original member Willie Holland has kept the band name alive with a group that is based out of Fort Lauderdale FL, and active onstage and in the studio, releasing an album "Made To Be Loved" as recent as 2006.

www.thepersuadersonline.com.

The Persuaders were a punk band from New Orleans, Louisiana. They were formed by Jason Craft, Louie Bankston, and Shag in 1999.
Genre not found
Artist not found
Album not found
Search results not found
Song not found
Thin Line Between Love And Hate
The Persuaders Lyrics
It's a thin line, it's 5 o'clock in the morning
And I'm just getting in, I knock on the door
A voice sweet and low says, who is it?
She opens up the door and lets me in
Never do she once say, sir, where have you been?
No, she says, are you hungry?
Are you hungry, honey? Did you eat yet?
Let me hang up your coat, your coat, your coat
And the woman tells me, pass me your hat too
All the time she smiles, never once raises her voice
It's 5 o'clock in the morning
1-It's a thin line between love and hate..
2-The sweetest woman in the world
Can be the meanest woman in the world
If you make her that way, you keep on hurting her
She keeps being quiet
She might be holding something inside
That really really hurt you one day
Here I am laying in the hospital
Bandaged from feet to head
Ya see I'm in the state of shock
Just that much from being dead
I didn't think my woman could do something like this to me
I didn't think she had the nerve, so here I am
I guess action speaks louder than words
(repeat 1, 2, 1)
It's a thin line, between love and hate
It's a thin line...
Lyrics © Warner Chappell Music, Inc.
Written by: EUGENE POINDEXTER ROBERT, JACKIE MEMBERS, RICHARD POINDEXTER, ROBERT POINDEXTER, ROBERT EUGENE POINDEXTER

Lyrics Licensed & Provided by LyricFind
To comment on specific lyrics,
highlight them