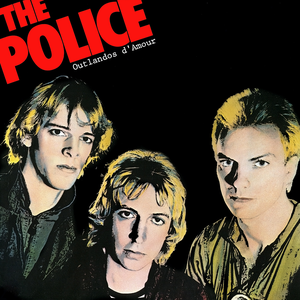 Outlandos d'Amour is the debut album by The Police, released in 1978.

The LP initially flopped, due to low exposure and an unfavourable reaction from the BBC to its first two singles, "Can't Stand Losing You" and "Roxanne" (about suicide and prostitution, respectively). As Sting describes:
" ...We had [a] publicity campaign with posters about how the BBC banned "Roxanne". The reason they had a problem with "Can't Stand Losing You" was because the
Read Full Bio
Outlandos d'Amour is the debut album by The Police, released in 1978.

The LP initially flopped, due to low exposure and an unfavourable reaction from the BBC to its first two singles, "Can't Stand Losing You" and "Roxanne" (about suicide and prostitution, respectively). As Sting describes:
" ...We had [a] publicity campaign with posters about how the BBC banned "Roxanne". The reason they had a problem with "Can't Stand Losing You" was because the photo on the cover of the single had Stewart standing on a block of ice with a noose around his neck, waiting for the ice to melt. "

However, the band's low-budget tour of America in support of the album made people across the country aware of the band, and especially "Roxanne". The song received more and more airplay from radio DJs in both the United States and Great Britain through April 1979. When A&M re-released "Roxanne", it went to #12 on the UK charts, and "Can't Stand Losing You" followed, eventually hitting #2. The album itself peaked at #6.

The album starts off with "Next To You", a punk number with a slide guitar solo in the middle. "So Lonely", a song about loneliness with a reggae beat follows. "Roxanne", about a prostitute, was written by Sting after visiting a red-light district in Paris and is (along with "Every Breath You Take") one of the Police's best-known songs. It is followed by "Hole in My Life", another reggae-type song about loneliness, and "Peanuts", a Sting-Stewart Copeland collaboration with a strong punk influence. "Can't Stand Losing You" and "Truth Hits Everybody", a pair of ominous songs detailing love gone wrong, begin Side Two of the original LP. "Born in the 50's", which is about the experiences of Sting and Copeland's generation (Andy Summers was born in 1942), and "Be My Girl -- Sally", a combination of a half-finished song sung by Sting, and a short Andy Summers poem about a blowup doll (one of the rare songs with Andy on lead vocals). This leads into the album's semi-instrumental closer, "Masoko Tanga".

Police manager Miles Copeland III originally wanted to name the album Police Brutality. However, after hearing "Roxanne" and then envisioning a more romantic image for the band, he proposed Outlandos d'Amour instead. This title was derived from "Outlaws of Love", which was merged with the word "commandos" and then given an exotic-sounding French translation.

In 2003, the album was ranked number 434 on Rolling Stone magazine's list of the 500 greatest albums of all time.
Genre not found
Artist not found
Album not found
Search results not found
Song not found
Next To You
The Police Lyrics
I can't stand it for another day
When you live so many miles away
Nothing here is gonna make me stay
You took me over, led me far away

I sold my house
I sold my motor, too
All I want is to be next to you
I'd rob a bank
Maybe steal a plane
You took me over
Think I'm goin' insane

What can I do
All I want is to be next to you
What can I do
All I want is to be next to you

I've had a thousand girls or maybe more
But I've never felt like this before
But I just don't know what's come over me
You took me over, take a look at me

What can I do
All I want is to be next to you
What can I do
All I want is to be next to you

All I want is to be next to you
All I want is to be next to you
All I want is to be next to you

So many times I used to give a sign
Got this feeling, gonna lose my mind
When all it is is just a love affair
You took me over baby, take me there

What can I do
All I want is to be next to you
What can I do
All I want is to be next to you
What can I do
All I want is to be next to you
What can I do
All I want is to be next to you
All I want is to be next to you
All I want is to be next to you
All I want is to be next to you {What can I do}
All I want is to be next to you
All I want is to be next to you
All I want is to be next to you
All I want is to be next to you...

Lyrics © Sony/ATV Music Publishing LLC
Written by: Gordon Sumner

Lyrics Licensed & Provided by LyricFind
To comment on specific lyrics,
highlight them