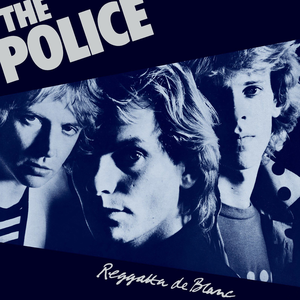 Reggatta de Blanc is the second album by The Police, released in 1979.

"Message in a Bottle", a Sting-penned song about alienation, opens the album. It is followed by the mostly instrumental "Reggatta de Blanc", (the title being a pseudo-French translation referring to the album's style of "white reggae") one of the few songs written by all members of the Police. The instrumental piece came from the long instrumental break in the live performance
Read Full Bio
Reggatta de Blanc is the second album by The Police, released in 1979.

"Message in a Bottle", a Sting-penned song about alienation, opens the album. It is followed by the mostly instrumental "Reggatta de Blanc", (the title being a pseudo-French translation referring to the album's style of "white reggae") one of the few songs written by all members of the Police. The instrumental piece came from the long instrumental break in the live performance of "Can't Stand Losing You" and earned the band the 1981 Grammy Award for Best Rock Instrumental Performance. "It's Alright For You" is a driving punk-ish song featuring strong guitar and drum parts. The next three tracks, "Bring on the Night", a song about the execution of Gary Gilmore, "Deathwish", and "Walking on the Moon" all have a strong reggae feel to them. "On Any Other Day" features a rare lead vocal from Stewart Copeland, and is a humorous take on a middle-aged man's mid-life crisis. "The Bed's Too Big Without You" (later covered by reggae singer Sheila Hylton in 1981, which became a UK chart hit), "Contact" and "Does Everyone Stare" are three songs dealing with the connection, or lack thereof, between two individuals. The hectic "No Time This Time" closes the album.

The album took only a few weeks (spaced over several months) to record, but unlike its successor Zenyatta Mondatta, there was no pressure on the band. As Stewart Copeland describes it, "We just went into the studio and said, 'Right, who's got the first song?' We hadn't even rehearsed them before we went in."

The album continued to build on the success of the band's previous record, Outlandos D'Amour, hitting #1 on the UK and Australian album charts upon its release in October 1979. "Message in a Bottle" and "Walking on the Moon" were released as singles and both reached #1 in Great Britain. In 2003, the album was ranked number 369 on Rolling Stone magazine's list of the 500 greatest albums of all time.
Genre not found
Artist not found
Album not found
Search results not found
Song not found
Message In A Bottle
by
The Police
Just a cast away, an island lost at sea, oh
Another lonely day, no one here but me, oh
More loneliness than any man could bear
Rescue me before I fall into despair, oh
I'll send an SOS to the world
I'll send an SOS to the world
I hope that someone gets my
I hope that someone gets my
I hope that someone gets my message in a bottle, yeah
Message in a bottle yeah
A year has passed since I wrote my note
I should have known this right from the start
Only hope can keep me together
Love can mend your life but love can break your heart
I'll send an SOS to the world
I'll send an SOS to the world
I hope that someone gets my
I hope that someone gets my
I hope that someone gets my message in a bottle, yeah
Message in a bottle, yeah
Oh, message in a bottle, yeah
Message in a bottle, yeah
Walked out this morning, I don't believe what I saw
A hundred billion bottles washed up on the shore
Seems I'm not alone in being alone
A hundred billion castaways looking for a home
I'll send an SOS to the world
I'll send an SOS to the world
I hope that someone gets my
I hope that someone gets my
I hope that someone gets my message in a bottle, yeah
Message in a bottle, yeah
Message in a bottle, whoa
Message in a bottle, yeah
Sending out an SOS
Sending out an SOS
I'm sending out an SOS
I'm sending out an SOS
Sending out an SOS
Sending out an SOS
Sending out an SOS
Sending out an SOS
Sending out an SOS
Sending out an SOS
Sending out an SOS
Sending out an SOS
Sending out an SOS
Sending out an SOS
Sending out an SOS
Sending out an SOS
Sending out an SOS
Sending out an SOS
Sending out an SOS
Sending out an SOS
Sending out an SOS
Sending out an SOS
Sending out an SOS
Sending out an SOS
Sending out an SOS
Lyrics © Sony/ATV Music Publishing LLC
Written by: Gordon Sumner

Lyrics Licensed & Provided by LyricFind
To comment on specific lyrics,
highlight them