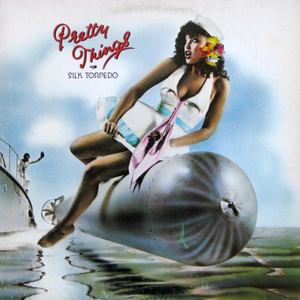 The Pretty Things was an English rock band formed in September 1963 in Sidcup, Kent, with their name from Willie Dixon's 1955 song "Pretty Thing". They pioneered a raw approach to rhythm and blues (and later, psychedelia) that influenced a number of key bands of the 1960s British 'invasion', particularly The Rolling Stones, and David Bowie whose first hero was Phil May (born 1944; died 2020). The band did their final tour in 2018.

The Pretty Things was preceded by Little Boy Blue and the Blue Boys which consisted of Dick Taylor
Read Full Bio
The Pretty Things was an English rock band formed in September 1963 in Sidcup, Kent, with their name from Willie Dixon's 1955 song "Pretty Thing". They pioneered a raw approach to rhythm and blues (and later, psychedelia) that influenced a number of key bands of the 1960s British 'invasion', particularly The Rolling Stones, and David Bowie whose first hero was Phil May (born 1944; died 2020). The band did their final tour in 2018.

The Pretty Things was preceded by Little Boy Blue and the Blue Boys which consisted of Dick Taylor, fellow Sidcup Art College student Keith Richards, and Mick Jagger. When Brian Jones joined Little Boy Blue and the Blues Boys as guitarist, Taylor was pushed from playing guitar to bass and the Rolling Stones were formed.

Several months later Dick Taylor (born Richard Clifford Taylor, 28 January 1943, in Dartford, Kent) quit the newly formed Rolling Stones to pursue his schooling when he was accepted at London Central School of Art, where he met up with Phil May (born Phillip Arthur Dennis Kattner, on 9 November 1944, in Dartford, Kent: died 15 May 2020) and they formed Pretty Things.

Taylor was once again playing his preferred guitar with May singing and playing harmonica. They recruited Brian Pendleton (born 13 April 1944 in Wolverhampton–died 16 May 2001 in Maidstone, Kent) on rhythm guitar; John Stax (born John Edward Lee Fullegar, 6 April 1944 in Crayford, Kent) on bass; and, after trying a couple of different drummers, including Pete Kitley and Viv Andrews, stuck with Viv Prince (born Vivian St John Prince, 9 August 1944, in Loughborough, Leices).

Early career

They caused a sensation in England, and their first three singles — "Rosalyn" #41, "Don't Bring Me Down" #10, and the self-penned "Honey I Need" at #13 — appeared in the UK singles chart in 1964-1965. They never had a hit in the United States, but had considerable success in their native United Kingdom and in Australia, New Zealand, Germany, and the Netherlands in the middle of the decade. However, in the U.S. they, along with The Yardbirds and Van Morrison's Them, were a huge influence on hundreds of garage bands, including the MC5 and The Seeds.

Their early material was hard-edged blues-rock influenced by Bo Diddley (they took their name from Diddley's 1955 song "Pretty Thing" in humorous contrast to their unkempt long-haired appearance) and Jimmy Reed, much like that of their contemporaries The Stones and The Yardbirds. They were known for wild "rock and roll" behaviour and shocking the establishment; their song "Midnight to Six Man" defined the mod lifestyle. Around this time, the first of what would be many personnel changes over the years also began, with Prince the first to go late in 1965. He was replaced by Skip Alan. Pendleton left late in 1966, and was not initially replaced. Then, Stax quit early in 1967 and Jon Povey and Wally Waller joined to make the band a five piece once again.

After an uncomfortable flirtation with mainstream pop on the Emotions album in 1967, they embraced psychedelia, producing the groundbreaking concept album S.F. Sorrow during 1967-68. This album, released in late 1968, is arguably one of the first rock operas, preceding The Who's Tommy by about a year. It was recorded in the legendary Abbey Road Studios six months after The Beatles' Sgt. Pepper's Lonely Hearts Club Band, and Pink Floyd's The Piper at the Gates of Dawn. Each album shares a similar forward-thinking late-1960s psychedelic sound (as well as sharing the same record producer, Norman Smith, as the Floyd). S.F. Sorrow was followed by the highly-acclaimed record album Parachute, which continued the psychedelic sound and was named "Album of the Year" in 1970 by Rolling Stone Magazine. During this period they also recorded an album for a young French millionaire, Philippe DeBarge, which was intended only to be circulated among the man's social circle. The acetate has since been bootlegged.

Later career

From this point on, the group enjoyed less in the way of commercial success, but the devotion of a strong cult following, especially with critics and other rock musicians. Their material in the early 1970s tended towards more the hard rock and early heavy metal end of the spectrum, although still blues-based, on albums like Silk Torpedo. 1980's Cross Talk saw them incorporating influences of punk and New Wave into their hard rock sound; like most of their records, it was an artistic but not a commercial success.

With a new manager, Mark St John, they gigged sporadically during the 1980s. By the end of the decade their profile had almost disappeared, when founder members Phil May and Dick Taylor reformed the band for a successful European blues tour in late 1990 with Stan Webb's Chicken Shack and Luther Allison. This gigging outfit included drummer Hans Waterman (formerly of Dutch rock group Solution), bassist Roelf ter Velt and guitarist/keyboardist Barkley McKay (Waco Brothers and Pine Valley Cosmonaut's with Jon Langford of Mekon Fame). This line up regularly toured the European mainland playing a revitalised set that show cased their earlier, rootsy blues and r'n'b materiel, until late 1994. By 1995, they reformed the Cross Talk line-up and added Frank Holland on guitar in place of Peter Tolson. Their label, Snapper Music, issued remastered CDs with many bonus tracks, plus a DVD of a re-recording of S.F. Sorrow at Abbey Road Studios (with Dave Gilmour & Arthur Brown guesting). They toured more frequently, including a tour of the U.S. for the first time in decades

Original rhythm guitarist Brian Pendleton died of lung cancer on May 16, 2001.

In the early 2000's, they released new recordings, including a live album and the studio album Rage Before Beauty.

In 2003, Alan Lakey's biography of the band, Growing Old Disgracefully, was published by Firefly. The book dealt with the long and involved history of the band, and paid special attention to the legal proceedings issued against EMI in the 1990s.

The band did their final tour in 2018.
Genre not found
Artist not found
Album not found
Search results not found
Song not found
We have lyrics for these tracks by The Pretty Things:



A House in the Country He don't need no sedatives to ease his troubled mind. At…
Alexander Eastern shores, they seemed so full of promise Minarets the…
All Light Up All light up, all light up All light up, all light…
All Night Sailor Allnight sailor poor man failure Join one line there's no ot…
Another Bowl? Everybody says you're leaving If you do, you know, you'll s…
Atlanta Early morning, pack my bags Atlanta airport driver please Lo…
Balloon Burning New York Grey and sorrow there to meet her Night sky…
Baron Saturday Oh! baron Saturday Sorrow, he'll show you games to play He…
Belfast Cowboys Celtic children born with stone in hand Cast against the dar…
Big Boss Man Big boss man Can you hear me when I call Big boss…
Big City Well I used to be simple living countryboy Didn't even know…
Bitter End They say that bearing crosses is a religion in itself But…
Bracelets of Fingers Love These are a few of the things I find joy. Bracelets…
Bridge of God Hide in the shadows, german shepherds are near, Heart double…
Bright Lights Of The City The darkening eyes you turn to me Empties my body and…
Cold Stone In the sky you´re runnin' White liquid at your feet Disper…
Come Home Moma With stiffened back, dressed in black Enters doctor pessimis…
Come See Me If you wanna love me baby Come see me If you wanna…
Country Road Tired and warm somebody near you Tired and cold someone far…
Cries From The Midnight Circus In the concrete valleys the electric storm. We members of t…
Cry to Me (B. Russell) Fontana 26 471 TF When your baby leaves you al…
Death As your loved ones they place Heavy stones on your face Yo…
Defecting Grey Sitting alone on a bench with you Mirrored above in…
Don She doesn't see the yellow light, falling on formica table…
Don't Bring Me Down I'm on my own, nowhere to roam I tell you baby,…
Don't Lie To Me Well all kinds of people that I just can't stand That's a…
Drowned Man Out in the street it's gently raining, It's like dancing on…
Edge Of The Night I saw the canopies, beneath the buildings discreet The hour…
Eve of Destruction Eastern world it is exploding The violence flarin', bullets…
Falling Again I caught the last bus down to the harbour Where the…
Grass As silver tears they weave and lace, Sad patterns upon her…
Growing In My Mind Growing in my mind Is the picture of a face, Someone that…
Havana Bound I was encased in an aircraft Feeling so sick…
Honey, I Need If you don't want paying for You'd better set me free I…
House Of Ten He's got one room In a house of ten, Yes he's got,…
I Love You As evening shadows chase the sun The night is here my…
I'm Calling You've got a loaded imagination Uncovering investigations …
I'm Keeping Well your daddy was a robber baron, And he robbed so…
In The Square In the square, she came running, I was lucky to be…
Is It Only Love I said before, and now I'm sure It's time to speak…
It Isn't Rock 'N' Roll Can you hear the heat, It's getting to my feet, Starts to…
It'll Never Be Me Sad eyes turn away from the looking glass Fingers trace the…
It's Been So Long I went down to the muddy river Where the blind fish…
It's So Hard Early in the morning, when I get out of bed She…
It´s Been So Long I went down to the muddy river Where the blind fish…
Joey Wouldn't I be yours Wouldn't you be mine Wouldn't I always w…
Judgement Day What you gonna do on judgement day Time runs out, baby,…
Kicks After a month our friendship waned Cause you're ambitious t…
L.A.N.T.A. L A N T A Atlanta Living in Atlanta.…
L.S.D. Everybody's talking about my L.S.D. I say talk is easy and…
Letter She wrote me a letter, From the green fields it came. She…
Loneliest Person You might be the loneliest person in the world You'd never…
Lost That Girl I got myself some good news I bought myself some blue…
Love is Good She was just a lonely girl But I didn't know if…
Mama Keep Your Big Mouth Shut Hey Mama Keep your big mouth shut Hey Mama Keep your big …
Maybe You Tried Sweet miranda, on the veranda You really keep your ice-cream…
Midnight to Six Man I'll never see The people I know In the bright lights of…
Miss Fay Regrets You're corrugated steel baby Platinum to feel lady, Eyes a…
Mony Mony Here she comes now, sayin' come on, Mony Well, shoot 'em…
My Song As I sit at my piano Waiting for something to form…
No Future Honey remember me, I'm the one you brought home Do you…
October 26 So If we meet again Then maybe (Revolution) (That's all…
Office Love It was a grey dawn, penciled in lightly The morning screame…
Oh Baby Doll Baby Doll, when bells ring out the summer free Oh Baby…
Old Man Going Old man going. Hopscotch of life will lead you to the…
Onion Soup I've got onions in my soup I've got zebra in my…
Onion Soup / Another Bowl I've got onions in my soup I've got zebra in…
Out In The Night Out in the night it seems so cold Without you baby When…
Over the Moon There's a pain I cannot kill And I guess I…
Parachute White ice towers, slow dissolving Now fall. Below savage…
Peter So nice to see after long years of marriage A couple…
Play With Fire Well, you've got your diamonds And you've got your pretty c…
Pretty Thing You pretty thing, Let me buy you a wedding ring, Let me…
Private Sorrow Heaven's rain falls upon Faces of the children who look sky…
Rain When I got, to our meeting place I stared into empty…
Rainin' in My Heart Rainin' in my heart Since we've been apart I know I was…
Religion's Dead When they left you on Tobacco road The piggies they really…
Remember That Boy Like a breathless summer evening, When the silence simply ro…
Rip Off Train Young man made it to the city Searching through the wet…
Road Runner I'm a road runner, honey Well I'm a road runner, honey I…
Rosalyn Hey Rosalyn, tell me where you've been Hey Rosalyn, tell me…
S.F. Sorrow Is Born For ten weeks now number three stood empty Nobody thought t…
Sad Eye Well if you ever baby, Feel like changing your mind, Don't t…
Scene One Stone spires rise high, lacerate warmer skies, Iron laced p…
Sea Of Blue It's a sadness, it's a crime Why I wasted so much…
Sf Sorrow Is Born For ten weeks now number three stood empty Nobody thought t…
She Don't She doesn't see the yellow light, falling on formica table…
She Says Good Morning She's there waiting at the gate Painted by the dawn. She's…
She Was Tall She Was High And as she weaves her way, through city streets, The dawn…
She's a Lover She takes the moon and stars To wear as her disguise. Then…
Sickle Clowns Down by the river Three sickle mounted souls, Lay wined on t…
Singapore Silk Torpedo I've sailed the seas, a hard sea dog to please. Tattooed…
Talkin' About The Good Times Talkin' about the good times, talkin' about the good... Tal…
The Ballad Of Hollis Brown Hollis Brown He lived on the outside of town Hollis Brown …
The Good Mr Square The good Mr. Square, he doesn't have any hang-ups He spends…
The Journey City it leaves without traces Blind sparrow's carry me. Re…
The Letter She wrote me a letter, From the green fields it came. She…
The Moon Is Rising The moon is risin' This time goin' down I feel…
The Sun The sun The sun will cross the sky Cross the sky You reac…
Trust Excuse me please as i wipe a tear Away from an…
Under the Volcano Flew into existence, just a sweet bird of youth. Hugged my…
Unknown Blues Superiority (Iluminatis.inc) C-H-I-L-E Moriran en mi propias…
Walking Through My Dreams When I'm unhappy and in my eyes things are bad i…
We'll Play House Beautiful South Beautiful South-0898 You Play The Glockenspi…
What's The Use We gave you our love We gave you our love As we…
£.S.D. Ev'rybody's talking 'bout my £.s.d. I say talk is easy mo…

The lyrics can frequently be found in the comments below, by filtering for lyric videos or browsing the comments in the different videos below.