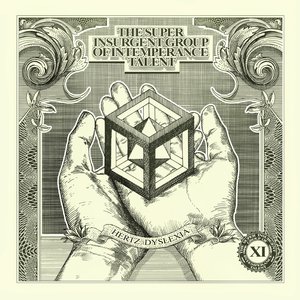 The Super Insurgent Group of Intemperance Talent (sometimes called The S.I.G.I.T…
Read Full Bio ↴
The Super Insurgent Group of Intemperance Talent (sometimes called The S.I.G.I.T or The SIGIT) is an Indonesian rock band based in Bandung, Indonesia. Although the band doesn't like to be categorized, they've been described as a garage rock band and often compared to Wolfmother and The Datsuns, even dubbed as 'Indonesian Answer To Wolfmother' by some Australian media. The Band name origin is rumored to be derived from Rekti's father, Sigit.

The Band formed in 1994 by Rektivianto Yoewono, Aditya Bagja Mulyana, Farri Icksan Wibisana and Donar Armando Ekana. From 1994 - 2002 is a period of formation. In this period, they met each other, played and hung up together, fought each other, rehearsed a lot, and wrote their song.

In 2004, The S.I.G.I.T. signed to Spills Records and released their self titled debut mini album (EP) and performed many bar gigs and venue. Their first single, Soul Sister soon became a local radio hits in Bandung and Jakarta, made reputated on MTV Trax Magazine as "The Hottest Rock N Roll Band".

By contributing on movie soundtrack for Catatan Akhir Sekolah (CAS), their fanbase grow rapidly. Did I Ask Your Opinion, which appeared as OST on former movie, finally became their first single to be broadcasted on MTV-I. After leaving Spills Records, they begun to spread their stage performance to bigger venue and region.
Genre not found
Artist not found
Album not found
Search results not found
Song not found
Alright
Middle of the night Wide awake So many thoughts I have in my…
Come Take It
And who says that you gotta believe in something When you…
Let It Go
I know it's hard But you just gotta let it go All…
Lost
눈부신 햇빛 손으로 가리면 어두워질까 얼룩진 추억에 너를 가리면 잊혀질까 혹시 나처럼…
Money Making
Run it up, It's time to win now Getting money with…
New Generation
Jeonhaejugoshipeo seulpeun shigani da heuteojin hu-eya deulr…
No Hook
This some plus four shit, man Les embrouilles, ça sert à…
Save Me
Lost up in my own mind lately People that I love…
The Party
Here we go, come on Here we go, come on Here we…