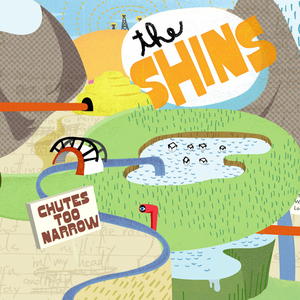 Chutes Too Narrow is The Shins' 2003 follow-up to their debut album, Oh, Inverted World. The album title comes from a lyric in the song "Young Pilgrims." The album was generally well received by critics, garnering an overall score of 88/100 on Metacritic. According to Nielsen SoundScan, they have sold over 393,001 copies to date.

Chutes Too Narrow features cleaner production standards than the "lo-fi" Oh, Inverted World. This is largely due to the album's being mixed by producer Phil Ek
Read Full Bio
Chutes Too Narrow is The Shins' 2003 follow-up to their debut album, Oh, Inverted World. The album title comes from a lyric in the song "Young Pilgrims." The album was generally well received by critics, garnering an overall score of 88/100 on Metacritic. According to Nielsen SoundScan, they have sold over 393,001 copies to date.

Chutes Too Narrow features cleaner production standards than the "lo-fi" Oh, Inverted World. This is largely due to the album's being mixed by producer Phil Ek, who has also worked with Built to Spill and Modest Mouse. Chutes Too Narrow also departs from the band's keyboard-driven debut and shifts towards more emphasis on guitars.

The album also included violin parts on "Saint Simon", played by Annemarie Ruljancich, and was nominated for a Grammy Award for Best Recording Package. The cover art was designed by Jesse LeDoux. The songs "Gone for Good" and "Those To Come" were used in the 2004 film In Good Company.
Genre not found
Artist not found
Album not found
Search results not found
Song not found
Kissing the Lipless
The Shins Lyrics
Called to see if your back was still aligned
And your sheets were growing grass out of the corners of your bed
But you've got too much to wear on your sleeves
That has too much to do with me
And secretly I want to bury in the yard
The grey remains of a friendship scarred
You told us of your new life there
You've got someone coming 'round
Gluing tinsel to your crown
He's got you talking pretty loud
Berate, remember your ailing heart and your criminal eyes
You say you're still in love
And it's true what can be done
It's hard to leave all these moments behind
Called to see if your back is still aligned
And your sheets are growing grass out of the corners of your bed
And you've got too much to wear on your sleeves
It's too much to do with me
And secretly I want to bury in the yard
The grey remains of a friendship scarred
You tested your medal of doe's skin and petals
Kissing the lipless and bleed all the sweetness away
Lyrics © O/B/O APRA/AMCOS

Lyrics Licensed & Provided by LyricFind
To comment on specific lyrics,
highlight them